Huang Guohua and His Daughter Leave Thailand for New Zealand (Photos)
January 18, 2006 | By Yu Chen


Falun Gong practitioners in Thailand see Huang Guohua and his daughter off at the airport
(Clearwisdom.net) At 4:00 p.m. on Jan. 15, 2006, in the waiting hall of the Bangkok International Airport in Thailand, Falun Gong practitioners held a farewell ceremony for Huang Guohua and his four-year-old daughter, Huang Ying, who would soon fly to New Zealand. Prior to this, Huang Guohua had been illegally detained at the Bangkok Immigration Detention Center for a month for protesting in front of Communist regime' embassy in Thailand over the Chinese police's acts of violence. Through Falun Gong practitioners' efforts and with help from the United Nations High Commission for Refugees (UNHCR) and the New Zealand government, Huang Guohua and his daughter were eventually freed to be resettled by the UNHCR in New Zealand.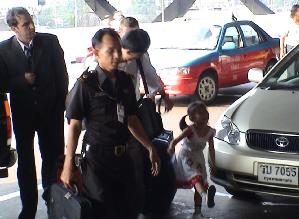 Thailand Immigration Bureau police escort Huang Guohua and his daughter to the airport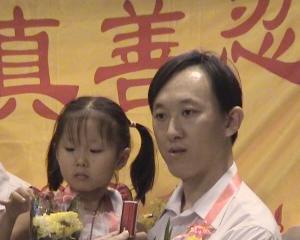 Huang Guohua makes a speech
Huang Guohua said in his short speech, "I hope that the Thai government can stand on the side of righteousness and bravely release the four Falun Gong practitioners still detained. Thailand should repent of its unethical actions."
Falun Gong practitioners' representative Chen Hua said, "Today, I'm happy and sad. I'm happy because Huang Guohua and Kaixin (nickname of Huang Ying) will ultimately head for true freedom! I'm sad because they were escorted to the airport by the Thai Immigration police, and deported like criminals, which, by succumbing to the CCP and participating in the persecution of Falun Gong, has been a big disgrace for Thailand. Here I express my appreciation to New Zealand for embracing Falun Gong practitioners with her broad bosom."
---------------------------
Background of the incident: On December 10, 2005, Falun Gong practitioners in Thailand came to the Chinese embassy in Bangkok to protest Chinese policeman He Xuejian's recent torture and rape of two women practitioners who were in detention in China. After going in and out of the Chinese embassy, several dozen Thai police came across the street and manhandled some of the peacefully protesting practitioners. The police forcibly dragged some of the practitioners away, searched their bags, took away their banners and checked their IDs, causing injury to the practitioners and their personal belongings. Some Thai police officers expressed that they did not want to interrupt practitioners' peaceful protest, but the Chinese embassy pressured them to do so. On December 15, at the behest of the Chinese embassy, Thai police unreasonably arrested eight Falun Gong practitioners who were peacefully protesting in front of the Chinese embassy. Four practitioners are still being detained to this day.