Ms. Wang Yin Arrested by National Security Bureau of Jilin City, Family's Request for Her Release Rejected (Photos)
January 11, 2006 | By a practitioner from Jilin City, Jilin Province
(Clearwisdom.net) Ms. Wang Yin, 36 year old from Jilin City, lost her job in September 23, 2005 when her employer yielded to pressure from the National Security Bureau. On the evening of December 13, 2005, Wang Yin and three other practitioners were arrested at the residence area of the Provincial Mechanical Factory in Changyi District, Jilin City. Her family requested her release, but were rejected. Wang Yin is still being jailed.
| | |
| --- | --- |
| Wang Yin | Wang Yin and Her Son |
1. Wang Yin Nearly Died as a Result of Torture at Jiutai Yinmahe Forced Labor Camp in 2001
Ms. Wang Yin was formerly a salesperson at Jilin Radiation Chemistry Industrial Company. She learned Falun Dafa in 1997. After the persecution started on July 20, 1999, to validate Dafa, Ms. Wang did the exercises in front of the civic government building of Jilin City in early 2000. She was illegally arrested and detained for five days. On January 28, 2001, Wang Yin went to Beijing's Tiananmen Square to appeal for an end to the persecution, and was arrested and taken to Beijing Huairou Detention Center, where the authorities forced her to stand barefoot on the snow-covered ground. Ms. Wang was subsequently taken to Jilin City No. 3 Detention Center.
On March 1, 2001, Wang Yin was taken by Fan Yegang, Head of the Political and Security Department of Chuanying Subdivision, Jilin City Public Security Bureau, to the No. 6 Brigade of Jiutai Yinmahe Forced Labor Camp. There, she was subjected to brutal torture. On March 27, six guards from the brigade beat her: Wang Xiuyan first used an electronic baton to shock the back of her hand and her arm, and at the same time, kicked her to the ground numerous times. Then they decided to beat her in pairs. Guard Qu Wenfang and Jin Yingai forcefully pressed the electronic baton onto Ms. Wang's face and spun the baton constantly. Wang Yin's facial muscles convulsed and her neck and head shook as well. While Ms. Wang was enduring all this without even a moan, guard Jin Yingai yelled, "Take off her pants and shock her private parts." At the same time, the guards made other practitioners who refused to give in to watch how Wang Yin was being tortured. The guards used three electric batons and shocked Ms. Wang for two hours. Wang Yin's neck was so swollen that it became larger than her face, and was all black and blue.
On September 11, 2001, Wang Yin was transferred to Heizuizi Forced Labor Camp. She refused to wear the prison uniform and was therefore tied to the Death Bed in the storage room. Her hands were shackled to the upper two corners of the bed while her feet were tied to the other two corners. Wang Yin went on a hunger strike to protest this abuse, but was force-fed every day. They injected a tube of salt water through her nose. On the fourth day, the guard made a mistake and the salt water was injected into Wang Yin's lungs. She went into a coma and had to be taken to the Jilin Public Security Hospital emergency room, with her limbs still handcuffed to the bed. Her situation was so severe that the staff at the hospital notified her relatives to pick her up, for fear that she might die in the hospital.
On December 30, 2002, Wang Yin was at work when the Jilin City 610 Office of Gaoxin District, Gaoxin Police Station arrested her and brought her to the local brainwashing center. She went on a hunger strike to resist the persecution. Then, she walked away with righteous thoughts but had to leave home to avoid further persecution.
2. National Security Guards Broke Into Ms. Wang's Home Twice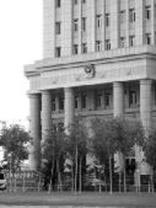 National Security Bureau at 59 Songjiangdong Rd., Jilin City
On July 15, 2005, about two dozen police officers and staff members from the 110 Emergency Services, Jilin National Security Bureau, Xiangyang Police Station surrounded Wang Yin's home and were going to break in to arrest her. Wang Yin opened her window to talk to her neighbors, the police, and pedestrians, to clarify the truth. The villains were afraid of more people knowing the truth about the persecution, so did not break in right away. Two hours later, Wang Yin escaped from her home.
Wang Yin's employer was implicated. On July 15, National Security police forced her department manager to call Ms. Wang back to work. The manager said on the phone, "National security is after you." He was thus taken away for leaking "state secrets" until later at night, when he was released.
On the afternoon of July 17, police from the Jilin City National Security Bureau deceived Wang Yin's mother into opening her door by pretending to be someone collecting the water bill. As soon as she opened the door, they ransacked the place, taking away truth-clarification materials, a bank book for her company, her personal bank book, two cell phones, the children's external memory key, and the family's address book, among other personal items. As result, Wang Yin was forced to leave home again to avoid further persecution.
On December 13, 2005, around 4:30 p.m., Wang Yin and other three practitioners were surrounded by police on the Seventh Floor, Unit 2, Building 1, of the Provincial Mechanical Factory Residence, Changyi District, Jilin City. The police broke in around 7:30 to 8:00 p.m., and Wang Yin and the other three practitioners were arrested.
3. Family Requests her Release, but Are Rejected
When Wang Yin's family heard about her arrest, they went to the police station to ask for her release. The police officer said, "This is very complicated. It is under the jurisdiction of the National Security Bureau of Jilin City. We have no control." At 10:00 p.m. her relatives went to the National Security Bureau at No. 59 Songjiangdong Road to ask for Ms. Wang's release. The security guard said that nothing like that ever happened. At the persistent request of her family members, the security guard made a phone call and was heard talking on the phone, "Her relatives are here. What do I do?" However, when he hung up the phone, he said there was no such thing as Wang Yin's arrest. Wang Yin's relatives and her 72-year-old mother stood in the snow in minus 26-27 degree Centigrade [-15 or 16 degrees Fahrenheit] temperatures, but did not receive any news about her. They had no choice but to go home.
On the second day, before the National Security Bureau opened, Wang Yin's eleven family members were there. The security guard first made a phone call and then told the relatives that none of the case workers were there. The family insisted, and in the end, department heads Zhang and Qian came to receive the relatives. Ms. Wang's relatives insisted that Wang Yin be released. Qian beat around the bush: "National Security staff does not beat people up. You should not worry. Last night, Wang Yin was uncooperative, but we did not even handcuff her."
While the conversation was going on, Qian received a phone call. Her family heard the conversation. Someone wanted to borrow an electric baton. Wang Yin's mother immediately asked if they were getting an electric baton to shock her daughter.
Qian tried to cover it up and said, "No, they wanted to borrow a flashlight, not an electric baton." Wang Yin's mother asked who would need a flashlight in broad daylight. Qian tried to drive the family away. "You will not see her today. She is not in this building." Then the family member asked "Where is she then?" Qian replied, "I cannot tell you." At noon, Qian again tried to drive the family members away and asked them to leave their phone numbers. The relatives discussed amongst themselves and decided not to leave until they had a definite answer.
After noon, no one talked to the relatives. At the persistent requests of the relatives, at 3:00 p.m. the security guard called the office. After a while, a department head, Li, came out, and said to the relatives over the window sill, "No arrest happened. You guys go home." Then, two police vehicles arrived. Li walked over with three police officers. A police officer named Gao Yang from Dongjuzi Police Station of Changyi district, Jilin City, interrogated Wang Yin's relatives: "Why are you here? Where do you live?" The family explained that they just wanted to know the whereabouts of Wang Yin and that the National Security Bureau refused to give a reply. As Li denied that anything happened, Gao Yang pretended to go ask. When he came back, he again suggested that the bureau was not aware of anything concerning Ms. Wang's case. The family pointed out that he was lying and Gao said that he would ask again.
After a long while, Gao Yang and Li finally came out. Li admitted that Wang Yin had been arrested, but said that she was transferred overnight and that they were just assisting other departments. Her family pointed out that the National Security Bureau is the agency that delegates these cases. Later they found out that Li is the one responsible for persecuting Falun Gong. Finally, the family asked for his cell phone number and Qian's cell number. Both of them said, "We cannot give you our names and phone numbers. You will immediately post them on the Internet."
Wang Yin's family waited from morning to night, but never received an answer about her situation. In the meantime, the security guards received several phone calls from the office asking if the relatives had left, and how many of them were there.
On December 16, 2005, at 8:40 a.m., six of Wang Yin's family members arrived at the bureau again. The security guard opened the window and told them, "We have received orders from the bureau chief that you cannot come in." Wang Yin's parents and her other relatives stood in minus 20 degree Centigrade temperatures [-4 degrees Fahrenheit] for over an hour to insist on seeing the people responsible. Finally, Li came out to receive them. Another practitioner, Bai He's mother, who had been waiting for a long time, also joined in.
Ms. Wang's family asked Li, "Why did you arrest Wang Yin?" Li said that she must have broken the law. "What law did she break? What you are doing is breaking the law." They further asked, "Why did you bring in the police from Dongjuzi Police Station yesterday?" Li was trying to find excuses for their actions.
Then, the relatives asked for the items the police had taken away when they ransacked Wang Yin's home: the bank book of the company with 1,500 yuan, two cell phones, her personal bank book, the children's external memory key and address book. They demanded the immediate release of Wang Yin.
Jilin City National Security Bureau: No. 59 Songjiang Rd, Jilin City, Post code: 132011
Telephone: 86-432-3501131,86-432-2503114
Zhang Lianguo, Jilin City National Bureau Head:86-432-2503400 (Office); another department head, Li: 86-432-2503490 (Office)
Associate Chief, Yang Qi (main person responsible for the persecution): 86-13804420711 (Cell), 86-432-4665892(Home)
Department Head of Security, Qian (who claimed to be responsible for the persecution for the past four years): 86-13610754373 (Cell)
Yin Tielian, Wang Zhiqiang: (department heads who took subordinates to ransack Wang Yin's mother's home on December 7)
Dongjuzi Police Station, Jilin City Public Security Bureau: 86-432-2454429
Jilin City Political and Legal Commission: address: 86 Beijing Rd, Jilin City, postal code:132084
Office: 86-432-2010465, 86-432-2026154
Jilin City Changyi Police Station: Jilin City Liberation East Section, postal code: 132041, Switchboard: 86-432-2409221
Office of the Bureau Chief: 86-432-2485301; Office of the Political Commission:86-432-2499302
Office of Associate Bureau Chief: 86-432-2485303 86-432-2485306
Director of Political Department: 86-432-2485943
Office of Criminal Squad Head: 86-432-2485378
Jilin City Public Security Bureau: No. 51, Jilin City Beijing Rd. 132084, 86-432-2454682 (Fax)
Public number of the bureau chief:86-432-2409110, 86-432-2488110, 86-432-2455848