Li Qiang Secretly Transferred to Unknown Place - Jilin Police Intend to Kill Him to Cover Up Their Crimes (Photo)
(Clearwisdom.net) Mr. Li Qiang is a Dafa practitioner in Jiahe City, Jilin Province. At around 4:00 p.m. on December 13, 2005, a group of police officers blocked the entrance to the seventh floor of Unit 2 of a residential building in Changyi District, Jilin City. At around 5:30 that afternoon, six police cars gathered outside the building and three to four plainclothes policemen gathered near the building entrance. Between 7:30 and 8:00 that evening, the police broke in and arrested practitioner Bai He. Also arrested were Pan Zhaowen and Wang Yin. The onlookers also saw practitioner Li Qiang attempt to escape by jumping from the seventh floor.
Li Qiang was sent to the Jilin City Second Hospital to be rescued. He received twelve stitches on his head and suffered a fracture in his lower back. There were also some scratches and cuts on his legs and feet. Despite his injury, the doctors found "he was clear-minded and in good spirits."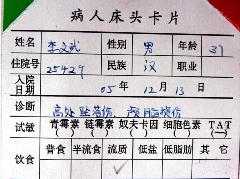 This is the patient card attached to Li Qiang's bed. The name on the card was written "Li Bin" instead of "Li Qiang."
Even though Li Qiang seemed to be recovering quickly, the police spread rumors that he had already died from his injuries. On the afternoon of the December 16, they transferred him to an unknown place. It seems that the police intended to kill Li Qiang and then cover their crimes and shirk the responsibility.
Not long ago, the police used the same tactic and killed practitioner Wang Shouhui and her son Liu Boyang. On October 28, 2005, Liu Boyang was beaten to death and then had his dead body thrown to the ground from a high-rise building. The authorities then transferred his mother Wang Shouhui to Shuangyang Detention Center, where they beat her to death. Wang was never told about her son's death before her own death. After Wang died, they sent her body to the hospital to make it appear they tried to rescue her. They later claimed that she died of a heart attack. Everyone who was familiar with her knew that she never had any heart problems. Dried blood was visible in her ears.
According to the Chinese Constitution, in the case of any injuries or deaths arising from arrests, the parties in charge of the arrest should take full responsibility. Jilin police are committing a tremendous crime by arresting Li Qiang and now attempting to kill him to cover up their crimes.
Pan Zhaowen, Wang Yin and Bai He are now being held in Jilin Third Detention Center and they are in critical condition.
Jilin National Security Bureau: 59 Songjiang Road, Jilin City, 132011
Phone: 86-432-3501131, 86-432-2503114
Deputy Director Yang Qi (main culprit): 86-13804420711, 86-432-4665892 (Home)
Security Section Chief Qian (who has been in charge of persecuting Falun Gong for four years): 86-13610754373 (Cell)
Zhang Lianguo
Yi Tielian
Wang Zhiqiang, who led people to ransack the home of Wang Yin's mother on July 17, 2005
Jilin City Second Hospital: 765 Tongjiang Road
86-432-2772315, 86-432-2773160, 86-432-2775800