Prior to Hu's Visit to Canada, Media Reports On the Persecution of Falun Gong (Photo)
(Clearwisdom.net) Prior to Hu Jintao's visit to Canada in September 2005, Canadian Falun Gong practitioners urged Prime Minister Martin to call on Hu to end the persecution of Falun Gong.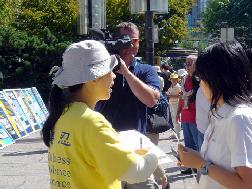 Canadian media interviewing Falun Gong practitioners during their petition
According to Reuters' report on September 6, 2005, a spokesman for the Falun Gong spiritual movement -- which Beijing banned in 1999 -- said it wanted Prime Minister Paul Martin "to publicly call on Hu Jintao to end the crimes against humanity against Falun Gong practitioners in China."
An article entitled, "Remember Who He Is," published by the Globe and Mail said, "As long as China treats its own citizens in an arbitrary fashion, other countries will wonder about its international intentions." The article said, "Let's not forget the nature of Hu's regime."
The article stated that China is still a police state. Since Hu took over leadership of the Communist Party, he has stepped up the harassment of dissidents. The article pointed out that China is an important trading partner. Dazzled by China's economic rise, the world today does not pay much attention to incidents like this, but it should.
CFCN, a local TV station in Calgary, reported, "Falun Gong practitioners and supporters in Calgary held a live re-enactment Sunday, of torture methods they say are used in China against citizens who practice the 'art.'" The report said that China's president, Hu Jintao, is set to visit Canada in a few days, and protestors wanted to highlight human rights abuses before he arrives.
A report from Canadian Press wrote, "Supporters of the Falun Gong spiritual movement presented a petition to Martin last week urging him to press Hu on rights in general and on the plight of Falun Gong practitioners in particular."
Falun Gong practitioners said that Prime Minister Martin should discuss the torture that Falun Gong practitioners are subjected to when he meets Hu Jintao.