United Kingdom: Moving Performances at Trafalgar Square to Rescue the Children of Falun Gong Practitioners Orphaned by the Persecution (Photos)
September 08, 2005 | By a practitioner in the U.K.
(Clearwisdom.net) On August 29, 2005, Falun Gong practitioners in the United Kingdom held a performance in London's famous Trafalgar Square to rescue the orphans of Falun Gong practitioners killed in the persecution. Large numbers of sightseers came and went in a continuous stream and the practitioners' performance attracted much attention. People stood in a circle and watched the event with great interest.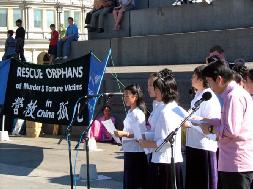 Practitioners sing songs they composed themselves
| | |
| --- | --- |
| People watch the practitioners' dance performance | Watching the practitioners dancing |
All the performances were completely original and created by practitioners. Several songs were brand-new compositions taking rescuing orphans as the subject and conveying the following messages to the audience: In China, after Falun Gong practitioners have experienced a six-year-long brutal persecution, many bright and pure children have been orphaned because their parents have been persecuted to death. In order to rescue these innocent children from misery, kind-hearted people, please give us your help.
People are deeply moved and sign the petition to support justice for Falun Gong
After learning about this terrible situation, people signed their names in succession to express support and deep sympathy to those Falun Gong practitioners and their children in China.
| | |
| --- | --- |
| Falun Gong exercise demonstration | Exercise demonstration |
The practitioners also demonstrated the Falun Gong exercises. The tranquil and elegant movements, as well as the compassionate energy field, drew many passers-by to stop and watch.

There were also tourists from China on the Square who stopped to watch. Practitioners gave them leaflets and talked with them. Most of the Chinese tourists accepted the information and some of them patiently listened to the practitioners' explanations.
At 5 o'clock, the performance concluded successfully. Practitioners in the U.K. will continue to use this type of event to present the goodness of Falun Gong to the people, and to tell the public about the suffering experienced by Falun Gong practitioners in China.
Source: http://clearharmony.net/articles/200509/28668.html