Dafa Practitioner Ms. Xia Aixiang from Wutu Town of Changle County, Shandong Province Missing, Unidentified Practitioner Cremated (Photo)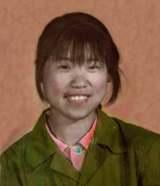 The photo for Xia Aixiang
(Clearwisdom.net) Dafa practitioner Ms. Xia Aixiang, about 42 years old, lived in Qiujiahe Village in Wutu Town of Changle County in Weifang City, Shandong Province. On August 16, 2001, Ms. Xia was secretly arrested when distributing Falun Gong truth-clarification materials. Since then her whereabouts have been unknown. The local town government officials deny the arrest.
According to sources, Ms. Xia was arrested on the evening of August 16, 2001, when she was distributing truth-clarification materials. She was probably first taken away by Qiaoguan Town Police Station officials and then transferred to Wutu Town Police Station. Her whereabouts remain unknown.
A witness saw a body that was totally wrapped up in the crematory. The police accompanied the body, but no family members were present. When asked, a person nearby said the body was of a Falun Gong practitioner.
According to a crematory employee, several days after August 16, 2001, the police sent over a female body. That body was secretly cremated.
Wutu Town officials had brutally tortured Ms. Xia before arresting her. The officials included Wang Xinbiao, Tian Benquan, Yin Yuankui, Liu Baowen, Zhao Dehui, Wang Dianfu, Zhang Yimei, among others. After the incident, officials such as Yin Yuankui, Tian Benquan, Wang Xinbiao were transferred to other towns.
After Ms. Xia went missing, Tian Benquan and Wang Xinbiao spread the rumor that Ms. Xia had divorced her husband, gone to work in Yaogou, and would no longer return home. In fact, Ms. Xia had a harmonious life with her husband and mother-in-law. Plus, she also has a lovely son who is a middle school student. The family had a happy life, and they are still asking around and looking for Ms. Xia Aixiang.
Phone numbers of responsible agencies and personnel:
Tian Benquan, head of 610 Office in Zhuhan Town: 86-13583691716 (Cell)
Wang Xinbiao, the Party Secretary of Zhuhan Town: 86-536-6223309 (Home)
Yin Yuankui: 86-536-6227523 (Home), 86-130553670032 (Cell)
Wang Dianfu: 86-536-6751250 (Home)
Zhao Dehui, an officer in charge of the Qiujiahe area: 86-536-6232266