Current Situation of Hu Qingjun and His Family Who Are Being Persecuted by Jixi Labor Camp Personnel (Photo)
(Clearwisdom.net)
Falun Dafa practitioner Hu Qingjun is being severely persecuted at the Jixi Labor Camp in Heilongjiang Province. Recently, after Hu Qingjun's situation was made public, Dafa practitioners worldwide have been making phone calls to the following individuals in efforts to persuade them further wrongdoing: Qi Min, the commander of the team persecuting Falun Gong, Feng Chenglin, the chief officer of Dahengshan Police Station of Hengshan District, and various persons responsible for persecuting Falun Gong in the Hengshan District Public Department. The staff in the Jixi Labor Camp hypocritically told Hu's family that they would tend to his health, yet Hu Qingjun has been repeatedly tortured, even though he is extremely weak.
The labor camp had been unsuccessful in its efforts to extort money from Hu's family. Thus, they tried various ways to get him into custody, traumatizing Hu's wife, Wang Jinxia, Hu Licheng, his son, and Hu Min, his daughter. His son's behavior and academic record at school are both exceptional, yet the constant pressure from society and the school authorities made him refrain from attending school twice in one month. At the moment, he has gone back to school again. Hu's daughter, normally an outgoing person, is currently in a state of depression. These mental wounds to the family are all being caused by the Hengshan District Public Security Department in Jixi City illegally carrying out orders from above.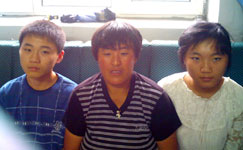 Family members of Hu Qingjun
Here, we urge all the Falun Dafa practitioners to join in sending their righteous thoughts to strengthen Hu Qingjun to help him leave the evil's den as early as possible. We appeal to the kind-hearted people and people of conscience to lend a hand in stopping the persecution of Hu Qingjun. Ask for his unconditional release and an immediate reunion with his family.
Those persons who received phone calls from the overseas Falun Dafa practitioners, and who know the truth of Falun Gong, have expressed their gratitude to Falun Dafa practitioners from Taiwan and Canada. They said that they would never forget those unexpected phone calls they received.
The following are the phone numbers of the responsible agencies and personnel:
To call China:
Country Code: 086, Area Code: 467
Dial Country Code + Area Code before all phone numbers.
Dial Country Code before cell phone numbers.
Sun Mengshan, Deputy Director of the Public Security Bureau of Hengshan District, Jixi City, Heilongjiang Province: 2462146 (Office), 2463150 (Home), 13359956781 (Cell)
Feng Chenglin, Dahengshan Police Station of Hengshan District: 2772958 (Office), 2460151 (Home), 13846008792 (Cell)
Zhou Tianshi, Jiang Haiyang, Police Officers in the Dahengshan Police Station of Hengshan District
Switchboard of Jixi Labor Camp: 2670164, 2570165, 2570166, 2570167, 2670966
Qi Min, Commander of the team persecuting Falun Gong in Jixi Labor Camp: 13946854203 (Cell)
Yang Ying, Political Commissar of the Hengshan District Police Department: 2462292 (Office), 2380688 (Home), 13704686666 (Cell)
Zhao Zhenghua, Director of the Hengshan District Police Department: 2462386 (Office), 2375289 (Home), 13846098288 (Cell)
610 Office of Hengshan District:
1) Guan Qingfeng - 2462218 (Office), 13199439958 (Cell);
2) Chen Bo - 2462218 (Office), 2352611(Home), 13836577815 (Cell)
Li Hongxu, Secretary of the Political and Legal Committee of Hengshan District, and the Discipline Inspection Committee: 2462402 (Office), 2360586 (Home), 13836597776 (Cell)
Wang Qihang, Principal of Jixi No. 4 Middle School: 2464312 (Office), 2663927 (Home), 13394676111 (Cell)
September 18, 2005