(Clearwisdom.net)
Falun Dafa practitioner Mr. Jia Junxi, 58 years old, lived in Qianxiaozhuang Village in Daxin Township, Fugou County, Henan Province. He was arrested on August 18, 2005 when
clarifying the truth
. Mr. Jia was tortured to death around August 29 at the county detention center.
(Clearwisdom.net) I am a resident of Shanwei City, Guangdong Province. I started practicing Falun Dafa in 1996. Before then, my wife was a chronic medical patient who had been taking medication and injections for 18 years. When my son was 16 years old, a tumor grew in his brain. The doctor said it would be hard to get rid of. Desperate, I heard that Falun Gong was effective in getting rid of diseases and making people healthy. Mentally predisposed to make this effort, I asked my wife and son to start the practice. A miracle happened! After only two days of practicing, my wife didn't need to take medicine anymore. She soon totally recovered and could do family chores and farm work again. The tumor in my son's brain left his body as blood flowing from his arm, and he could then go back to school. I deeply admired Teacher and the power of Falun Dafa, so I also started practicing as well. My family of three began enjoying a very happy life in the practice and study of Falun Dafa. At the same time, I used my personal experience to let other people know about the practice.
(Clearwisdom.net) On September 5, 2000, police from Branch No. 1 of the Public Security Bureau of Dandong City, Liaoning Province, abducted local Falun Gong practitioner Mr. Lu Huizhong from his workplace. Mr. Lu was tortured to death around 3:00 a.m. the next day. His face was dark blue and his eyes remained wide open. Mr. Zhu Wenjie, Head of the Public Security Bureau of Dandong City even told Lu Huizhong's family, "I will be glad to face any lawsuit you wish to file against me. I will accept all the legal consequences should you win the lawsuit."
~ Accounts of Persecution ~
~ Deaths ~
~ Accounts of Persecution ~
~ Deaths ~
~ April 25 Events ~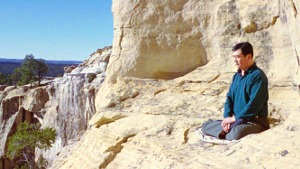 Master Li quietly watching the world from amidst the mountains after leaving New York following July 20th, 1999. (Published January 19, 2000)