Central News Agency: Falun Gong Practitioners from Hong Kong and Taiwan Deliver an Open Statement to the Hong Kong Government (Photo)
(Clearwisdom.net) According to Central News Agency's report on September 21, 2005, nearly 30 Falun Gong practitioners from Taiwan and Hong Kong marched to the Hong Kong Special Administrative Region (SAR) government headquarters to request the SAR government to deliver an open statement to the Secretary-general of the Chinese Communist Party Hu Jintao.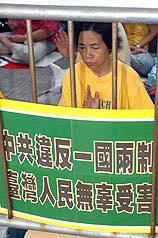 Falun Gong practitioners practicing exercises outside the high court
The Hong Kong high court continues its hearing of the judicial review filed by Falun Gong practitioners regarding the incident that nearly 80 Taiwanese Falun Gong practitioners were barred from entering Hong Kong in 2003. Legal counsel of both sides will debate the evidence and rationale of the watch list that the government used to bar so many plaintiffs.
Four plaintiffs who were granted permission to enter Hong Kong and hear the court are Falun Gong practitioners Theresa Chu, Liao Hsiao-lan, Lu Lih-ching and Chang Jenn-yen. During the lunch break, the four practitioners and Mr. and Mrs. Lu Li-tsing, together with more than 20 Hong Kong Falun Gong practitioners who came to support the case, marched from the high court to the superior court and the SAR government headquarters. They delivered an open statement related the deportation case to Chief Executive of the Hong Kong SAR, Donald Tsang and the chief justice of the superior court. They requested the SAR government to deliver the open statement to Hu Jintao.
Representative of the Hong Kong Falun Dafa Association Mr. Kan Hung-cheung said that the main idea of the statement is to demand that the Hong Kong court maintains its judicial independence, uphold the spirit of "one country, two policies", and ensure Hong Kong and Taiwanese people their human rights. The statement also called upon Hu Jintao to truly recognize the basic value including freedom and human rights. It pointed out that only by doing so can China be in peace.
In late February, 2003, several hundred Taiwanese Falun Gong practitioners entered Hong Kong with valid visas to attend a Falun Dafa cultivation experience sharing conference which was authorized by the Hong Kong government. Nearly 80 Taiwanese Falun Gong practitioners were detained at Hong Kong customs and then violently deported. As a result, several female practitioners were injured. They requested Hong Kong human rights counsel Paul Harris to file an application to urge the Hong Kong court to judge that the Hong Kong immigration department's forceful deportation was illegal.
In addition, they also charged that the violence performed during the process of deportation was illegal and the Hong Kong government should bear the responsibility of unlawfully detaining Falun Gong practitioners. The two parties will have two days of debates on the evidence and rationale of putting the applicants on the watch list and barring their entry.