France: Falun Gong Receives a Warm Welcome at the Montgeron Sports and Culture Expo (Photos)
September 19, 2005 | By French practitioners
(Clearwisdom.net) On September 10, 2005, the annual Sports and Culture Expo was held at Gymnase Pierre de Coubertin in Montgeron, near Paris.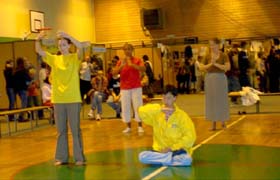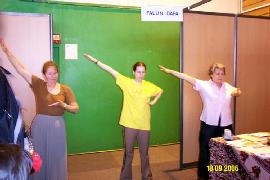 Falun Gong exercise demonstration
Ville de Montgeron is located southeast of Paris. The aim of the Expo is to encourage the healthy development of mind and body. The organizer allocated time slots for all groups to perform at the center of the stadium, including music, gymnastics, dance, martial arts and traditional cultivation ways. This was the foruth year that the French Falun Gong practitioners attended this Expo. They were invited to perform a Falun Gong exercise demonstration.
Many people came to practitioners' booth to learn the fact, ask for truth-clarification literature and sign their names to support the effort against the persecution
Visitors were moved by the peaceful Falun Gong music and the exercise demonstration. At the end of the demonstration, they applauded enthusiastically to show their appreciation. At the Falun Gong booth, practitioners arranged exercise demonstration posters and other French and English materials on a stand so that visitors could easily read them. Many people came to ask for information about Falun Gong and hoped to learn the exercises at their local practice sites. A lot of visitors signed the petition calling for an immediate end to the persecution of Falun Gong in China.
People were also drawn by the Falun Gong exercise demonstration near the booth. When they learned that Falun Gong instruction is free of charge, they were pleasantly surprised and very happy to see that in today's world of materialism, there still exists such a pure, righteous and selfless cultivation group.
Practitioners gave the children visitors bookmarks and postcards with pictures of children of different nationalities practicing Falun Gong, and informed them about the brutal persecution of Falun Gong in China. In fact, even children at a very young age could understand the facts. Some children, after learning the truth of Falun Gong, immediately talked to their friends and signed the petition form with their pure and innocent hearts.
http://www.clearharmony.net/articles/200509/28842.html