France: Residents in the 15th District of Paris Are Happy to Learn about Falun Dafa and Support an End to the Persecution (Photos)
September 15, 2005 | By a French practitioner
(Clearwisdom.net) On September 3, 2005, French Falun Gong practitioners held an activity on Rue de la Convention, the busiest area in the 15th Section of Paris, in the southwest section of the city. This activity was to introduce Falun Dafa and to expose the persecution taking place in China. It was part of a series of similar activities being held in Paris.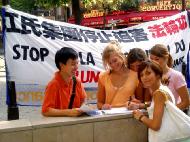 People are happy to learn about Falun Dafa and sign a petition to support an end to the persecution
Crowded with tall buildings and a highly concentrated population, the 15th Section contains seventy-six public schools, including universities, high schools, and elementary schools. As well as attracting a lot of students from other areas, this section of Paris is also is filled with the energy of young people and children everywhere.
Banners reading, "Stop the persecution of Falun Gong" and "Falun Gong - Truthfulness, Compassion, Forbearance," together with the beautiful Falun Gong music, attracted much attention. A great number of people were curious and asked what Falun Gong is about and why it is being persecuted. Falun Gong practitioners answered these questions one by one. After understanding the situation, people expressed their support for Falun Gong practitioners and signed the petition opposing the persecution.
| | | |
| --- | --- | --- |
| Exercise demonstration | Little practitioner distributes truth-clarifying materials | Carefully reading the truth-clarifying materials |
Four girls came to ask about Falun Gong after seeing the banners. They expressed their righteous indignation after hearing that Falun Gong practitioners are currently cruelly tortured in China. They were very happy to sign their names upon learning that there was a petition against the persecution. One of them said, "I support Falun Gong, I also would like to show my mom a leaflet." A practitioner thus gave her a couple more. She happily said that she would pass them along to others after she returned home.
An elderly lady continuously denounced the Chinese Communist Party (CCP) but didn't want to sign her name on the signature collection form. She thought that these signatures were to be sent to the Chinese government. She said that there was no use in sending these signatures, collected from nice people, to the evil government. She said the CCP does not deserve it. When Falun Gong practitioners smiled and told her that the collected signatures were not to be sent to China but to western countries and to international human rights organizations, she happily signed.
After a man signed his name on the anti-persecution form, a practitioner thanked him. He, however, said to the practitioner, "It is I that should say thanks to you."
In the evening when the activity was almost over, a man who cleaned the street said to us, "I am against all forms of persecution in the world. I totally support you. My whole-hearted blessings are with you!"
Source:http://clearharmony.net/articles/200509/28774.html