Taiwan: Big Hands Hold Small Hands -- Truth Clarification and Signature Collection in Pingtung Schools (Photos)
September 14, 2005 | By a Falun Gong practitioner in Pingtung, Taiwan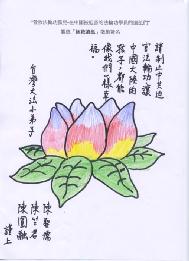 A drawing of a lotus flower, dedicated to children under persecution
(Clearwisdom.net) Falun Gong practitioners in Pingtung held truth clarification activities and collected signatures in elementary schools and kindergartens to help rescue orphans of persecuted Falun Gong practitioners in China. Innocent children couldn't understand why policemen in China would arrest Falun Gong practitioners and their children. Directors and teachers helped us clarify the truth about Falun Gong to the children. Kind-hearted and with a great sense of justice, the children signed their names to be sent to President Bush to call for support of Falun Gong orphans. Even those who can't write yet drew pictures to express their good wishes. It was a very moving event.
| | |
| --- | --- |
| A kindergarten director tells children about the persecution of Falun Gong | Children who can't write draw pictures to express their good wishes |
| | |
| --- | --- |
| Kind children are saddened to see the video about children under persecution | A girl is moved to tears while watching the video |
The first stop in the signature collection campaign was Meijin Kindergarten. The young director of the kindergarten, Mr. Shi, graduated from a university in the United States. Falun Gong practitioners told him that many Falun Gong practitioners in Mainland China had been illegally detained and tortured just for practicing Falun Gong. Almost 3,000 practitioners have died from the persecution. Many children have lost their parents and were forced to leave their homes. After learning about the persecution, Mr. Shi made arrangements for the signature collection activity and helped with videotaping it. He said, "I hope the Chinese government will respect human rights, stop persecuting its people, give [Falun Gong] practitioners freedom and spread the benefit of Falun Gong to every corner of China."
The second stop in the signature collection activity was Hongyu Kindergarten. Most of the children there had learned about Falun Gong before. They know that "Truthfulness-Compassion-Forbearance" is good. One little girl kept crying after watching the video about the persecution. She asked why policemen would beat practitioners and throw them into jails. She couldn't understand. Many children shared this question. The kindergarten director and teachers helped us explain what was happening in China. All the children signed their names or drew pictures to be sent to President Bush.
Falun Gong practitioner also went to Huiqiao Kindergarten and Qiaoyong Elementary School, which are 100 kilometers from the town. Some of the teachers there had been to a Falun Gong workshop in Qiaoyong Elementary School. Teachers and children in Huiqiao had learned the Falun Gong meditation during a morning break. They all identify with the principles of Falun Gong and gave the practitioners great support. The practitioners collected signatures and donated a photo album, "Journey of Fa-Rectification" to the library of Qiaoyong Elementary School.
This activity gave us an opportunity to meet many kind adults and children and to hear their sincere call to help the children under persecution. Let's hold hands together, young and old alike, and support the rescue of the orphans of persecuted Falun Gong practitioners. We hope the day will come soon when they can live happy lives like other children in the free world.