Washington DC: Minghui School Students Call on Bush and First Lady to Help Rescue Chinese Orphans (Photos)
(Clearwisdom.net) At the end of July this year, American teacher Lee Rende, who taught English several years at a university in northern China, initiated the event, "Kids saving kids" at the in Minghui School in Washington DC. He downloaded 30 photos from the Internet and made a slide show to help children learn about the current situation of orphans whose parents died in the persecution of Falun Gong in China.
The Minghui School students, aged 3 to 15, designed their own postcards according to their understandings to express their wishes and call upon more people to learn about the beauty of Falun Dafa and the cruel persecution, so as to help the orphans in China. The school collected nearly 100 postcards designed by Minghui School students and letters written to President Bush, First Lady Laura Bush, and the people of China and the U.S. They call for the rescue of orphans whose parents died in the persecution. http://www.rescueFLGchildren.org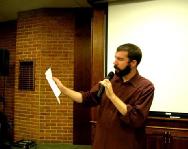 American teacher Lee Rende initiates the "Kids saving kids" event at Minghui School in Washington DC
Thirteen-year-old Toni Xue said in his letter to President Bush, "Dear Mr. Bush, perhaps you've already learned about the terrible things that are occurring in China. Millions of people have been tortured and some were killed by the Chinese Communist Party (CCP), simply because they practice a peaceful meditation system -- Falun Gong. Because many people who suffered from the persecution are parents, after they died, their children suffered. Because of the CCP's killing, many children my age have been orphaned. They became homeless and no one is taking care of them. These children need our help. They need the American people's help. They are the future of this world and they are the happiness of our lives. Please support and help us to rescue these children from the dangerous situation in China. Thank you very much for your kind help."





Drawings made by Minghui School students
Ten-year-old Minghui School student Emily Huang stated in her letter to First Lady Laura, "Dear Mrs. Laura Bush, the Chinese communist regime is persecuting Falun Gong practitioners who have done nothing wrong. The practitioners just want to tell people what exactly is happening. For only this reason, they were persecuted to death. Many parents left their children behind. Some children died in the persecution as well. The children need to leave China and go to a safe place. Please help rescue them. What the Chinese Communist Party has done is indeed wrong."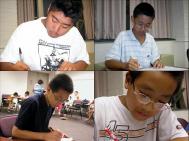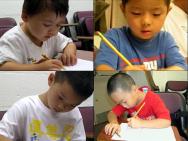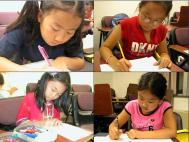 Minghui School students call on President Bush to help rescue orphans in China through drawings and writing letters.
Another girl, Eileen Luo, made a postcard. On the left hand side of her postcard, she drew a mother who was hung up and locked in a jail cell for practicing Falun Gong. On the right hand side, she wrote, "My name is Eileen. I want to tell you that Falun Dafa is great. It teaches people the principles of Truthfulness, Compassion, Forbearance. We learn to be kind and to be good people. Please help stop the persecution. Please help rescue the orphans who lost their parents in the persecution in China. If when you were young, your father and mother were tortured to death for practicing Falun gong, wouldn't you feel sad? Please help them. Thank you very much!"
Washington DC Minghui School was established in early 2001. According to the school principal Ms. Yu Jianmei, Minghui School's teaching objective is "Truthfulness, Compassion, Forbearance." In addition to spreading and promoting traditional Chinese culture, the school stresses students' mind and body health, and especially values virtue. Minghui School teachers help students foster good conduct and virtue. Students also improve their Chinese.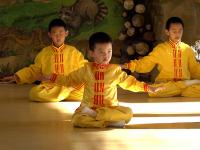 Washington DC Minghui School students demonstrate Falun Gong exercises in a community event.
In recent years, many places including Australia, Canada, Japan, Taiwan, Thailand, and Sweden established Minghui Schools. Daily Minghui schools have been established in Sydney, Australia and Taiwan.