Ottawa Citizen: Falun Gong Group Plans Protest to Pressure Canada on Chinese Visit - Practitioners to Re-enact Torture on Parliament Hill (Photos)
(Clearwisdom.net) On August 26, 2005, Canadian Falun Gong practitioners held a news conference to call on the Canadian government to ban Bo Xilai and Xia Deren from entering the territory of Canada. Canadian Parliament Member, Deputy Speaker and Chairman of the Committees of the Whole House, David Kilgour attended the news conference. Falun Gong practitioners conducted an anti-torture exhibit in front of Parliament Hill.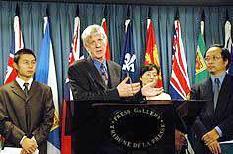 Canadian MP Kilgour attends the news conference to express his support (Central News Agency)
According to a report from the Ottawa Citizen on August 26, Falun Gong practitioners plan a demonstration on Parliament Hill today to re-enact the "draconian torture methods" they allege are used on their supporters in China, the group said in a press release yesterday.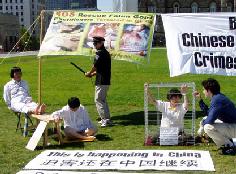 In front of Parliament Hill, Falun Gong practitioners re-enact torture methods used on their supporters in China.
They are also hoping [that Canadian officers would] deny entry to two members of a Chinese diplomatic entourage, Commerce Minister Bo Xilai and Xia Deren, a deputy provincial governor, due to visit Canada next month. Both have been accused in lawsuits brought by Falun Gong practitioners in several countries of torture and murder.

"Canada must not open doors to criminals in its pursuit for trade," said the release, quoting Xun Li, the president of the Falun Dafa Association of Canada, a group that represents Falun Gong practitioners.

Chinese President Hu Jintao is scheduled to visit Ottawa on Sept. 8 as part of a visit that includes an address to the United Nations in New York, and a return to Vancouver on Sept. 16-17. Commerce Minister Bo Xilai and Xia Deren, a deputy provincial governor, are to be among his entourage.

Falun Gong, also known as Falun Dafa, is a spiritual practice banned by the Chinese government in 1999. Supporters of the movement claim to have recorded more than 2,500 cases in which people were murdered because of their practices.

Opposition politicians echoed the objections of Falun Gong protesters, arguing Prime Minister Paul Martin must be more vigorous in criticizing the communist state over its "deplorable" human rights record.

"It's an important opportunity for him to put his money where his mouth is in making the argument that an enhanced trade relationship will push human rights," said Alexa McDonough, the New Democratic Party's foreign affairs critic.

Federal officials have said bilateral discussions are planned around trade, investment, human rights and cultural exchanges.