New York: Taiwanese Practitioners Clarify the Truth in Manhattan (Photos)
August 04, 2005 | By Chen Jiayu
(Clearwisdom.net) Last August, Falun Gong practitioners from Taiwan successively came to Manhattan to clarify the facts about Falun Gong. Many were retired people and homemakers. Also, many practitioners who are teachers came to Manhattan several times to clarify the truth during their winter or summer vacations.
I. Taiwanese Practitioners Felt it Imperative to Clarify the Truth in Manhattan
An elementary school teacher whose surname is Zeng and who can speak English expressed that the truth clarification in Manhattan is very important. This summer vacation, he came to Manhattan for the third time, as this is the world's financial center, and many big companies have invested in China. Many Chinese people work in these companies. They have been deceived by the media controlled by the Chinese Communist Party (CCP), and have a negative impression of Falun Gong, so they further affect other colleagues in those companies. The money they invest into China has been used to support the CCP to persecute kind people in China, such as Falun Gong practitioners who cultivate Truthfulness-Compassion-Forbearance.
II. Falun Gong Practitioners Win People's Support
Some practitioners stayed for one week or two weeks, and some practitioners stayed for one month, two months or even six months in Manhattan at their own expense. They lived a frugal life. Those who stayed for longer periods of time rented a house and shared it with several practitioners. In the daytime, they took to the streets in Manhattan to clarify the truth and came back in the evening to prepare food for themselves. They went out every day despite the cold of winter or the heat of summer. They seized every moment here in hopes of bringing the wonderfulness of Falun Dafa and the facts about the persecution of Falun Gong in China to every predestined person in Manhattan.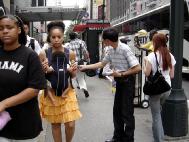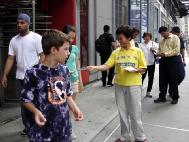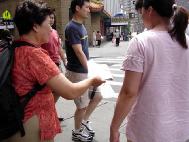 Taiwanese practitioners hand out flyers on the street
One day in February, at dusk when it was snowing heavily, a practitioner from Pingdong, south Taiwan still handed out flyers on the street, disregarding the piercing cold, wind and snow. A police officer asked the practitioner, "Is it true that you can't go home without handing out all these flyers?" The practitioner relied, "No, I'm a volunteer. I want to go home after handing them out, because Falun Dafa is good." The kind police officer was very moved and said, "Let me help you hand out the remaining flyers. You'd better go home and have a rest!" He then took the flyers from the practitioner.
Three practitioners from Pingdong, south Taiwan are homemakers with grown children. They obtained support from their families and have been in Manhattan for a long time clarifying the truth. They took part in anti-torture exhibits on the streets in Manhattan every day to expose the CCP's brutal persecution of Falun Gong practitioners. They sometimes acted as fellow practitioners suffering persecution in China, and sometimes handed out flyers or demonstrated the exercises. Other times they went to send forth righteous thoughts in front of the Chinese Consulate. Rain or shine, they have never missed one day. Though they can only speak a little English, many people came to sign the petition to show their support. Some people hugged the practitioners and were moved to tears. Some wanted to donate money to help, but the practitioners declined. They only asked that people spread the truth to more people. Reporters from TV stations and news agencies came to conduct interviews and took pictures.
Once, while handing out flyers at a subway station, A Qin from Pingdong picked up a hundred dollar bill on the ground, and she immediately caught the attention of the person who lost the money. The person happily hugged A Qin and thanked her. He also signed his name to condemn the persecution. People nearby saw the Falun Gong practitioner's good deed, and they took the initiative to sign their names to support Falun Dafa.
As they have stayed in Manhattan for a long period of time, and the media have reported on them, many people know about these practitioners. On their way back home, a child always pressed her hands in front of her chest making the Heshi gesture of respect to them, and said loudly "Falun Gong." A Ying has been staying in Manhattan for nearly a year. A Qin and A Zhao have been here for six months. Though three of them took to the streets every day in the sun and wind, they did not use any skin care products to protect their skin. Even so, their skin became softer and smoother. Dafa cultivation is really miraculous.
III. Indifferent Office Workers in Manhattan Improve their Attitudes
| | | |
| --- | --- | --- |
| Holding a display board | Sending forth righteous thoughts in front of Chinese Consulate | Street artist learns the truth |
Practitioners who stayed shorter periods of time during their vacation went to street corners and bus stations or subway stations where there are lots of people every day to hand out truth clarification materials and hold display boards. Some demonstrated the exercises, some helped at the anti-torture exhibits. They noticed that office workers in Manhattan hastily come and leave work. Some of them looked indifferent the first few days, and then their attitudes gradually improved. They were willing to accept the flyers and learn the facts about Falun Gong. Every day, there would be people who encouraged and praised practitioners by saying, "Good Job." Some people who had read the flyers or learned the truth said, "Very good." Some people wanted to help Falun Gong, and practitioners then asked them to help clarify the truth. Some people saw the display boards depicting the suffering of practitioners in China and shed tears. Some frowned and wanted to know more about Falun Gong. Practitioners then asked them to go to Dafa websites.
The oldest practitioner who came to Manhattan during this summer vacation was in her 80s. Some children who came with their parents were only five to six years old. Each day, they stayed outside about ten hours clarifying the truth. No one complained about being tired. Everyone got up at 4:00 to 5:00 a.m. to practice the exercises to start the day's activities. Several practitioners expressed simultaneously that Dafa had saved their lives. Without Falun Dafa, they might still be lying in bed or would have lost their lives already. After practicing cultivation, they became stronger than before when they were not ill. Therefore they came to Manhattan to tell people the wonderfulness of Falun Dafa, and help more people learn the facts about Falun Dafa, so that they will no longer be deceived by the CCP's lies, and will not miss such a wonderful opportunity.