Statements of Resignation from the CCP Posted in Public Locations in Beijing, Tianjin and Hebei (Photos)
(Clearwisdom.net) From July 17 to 19, 2005, righteous people distributed 80,000 copies of the Nine Commentaries on the Communist Party published by The Epoch Times and information about how to resign from the Chinese Communist Party (CCP) to people in Beijing, Tianjin and Baoding, Hebei Province. They also posted resignation statements and contact information for resignation declarations on streets, lanes, and intersections, in subway stations and other public locations. It was learned that there was eye-catching resignation literature posted in each subway station in Beijing, and viewers were pleased to see the announcements and to tell others about it.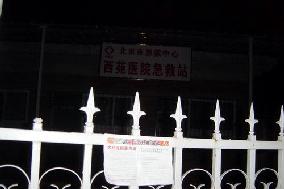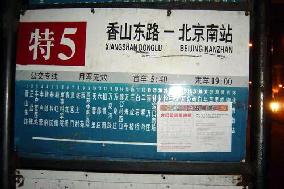 Solemn Statement from The Epoch Times clearly visible even though it was evening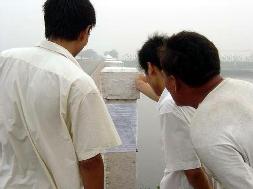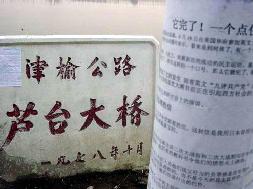 On the Lutai Bridge, people read information about the CCP collapsing and how to renounce the CCP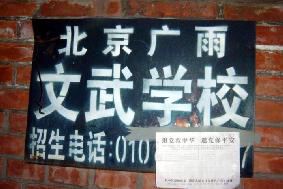 Information of how to read the Nine Commentaries online and listen to the Sound of Hope International Broadcasting Station posted on a large tree in front of Tianlong Company, Tianjin
Since the publication of the Nine Commentaries on the Communist Party on November 18, 2004, the commentaries have spread fast in China and have become a hot topic in China and among Chinese people worldwide. Correspondent Xin Fei from The Epoch Times reported about the group resignation of 47 former Chinese military officers from Hebei, Shanxi, Liaoning, Jilin and Heilongjiang Provinces on July 1, 2005, to support the "Global Day of Resignation from the CCP" on July 1. Outside of China, former Chinese diplomat Chen Yonglin, former 610 Office official Hao Fengjun and former director of the Shenyang Judicial Bureau, Han Guangsheng, renounced the CCP one after another and further exposed the CCP's evil nature, especially in the brutal persecution of Falun Gong practitioners. Since the publication of the Nine Commentaries, more than 3.3 million people have publicly resigned from the CCP on The Epoch Times website.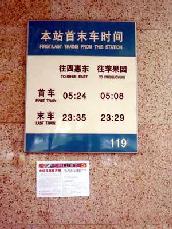 A Beijing subway station between Sihuidong and Pingguoyuang Stations