Canada: Two Chinese Communist Party Officials Visiting Canada Are on the List of the Royal Canadian Mounted Police (RCMP) (Photos)
August 29, 2005 | By Ying Xin in Ottawa
(Clearwisdom.net) Bo Xilai, Minister of Commerce of the People's Republic of China (PRC), is accompanying the Chairman of the PRC to visit Canada; Xia Deren, Mayor of Dalian and Deputy Governor of Liaoning Province, is expected to visit Canada on a separate trip next month. Both Bo Xilai's and Xia Deren's names are on the list of 45 perpetrators of torture and other crimes against humanity against Falun Gong practitioners in China, submitted to the War Crimes and Crimes Against Humanity Program in September 2003 and January, 2004. On August 26, the Falun Dafa Association of Canada held a press conference and called for the Canadian government to deny Bo and Xia entry into the country. Mr. David Kilgour, Canadian senior Member of Parliament and former Chairman of Foreign Human Rights Committee in Parliament participated in the press conference.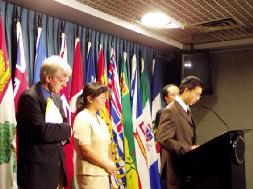 Press conference (from left, MP David Kilgour, Falun Gong practitioner Lucy Zhou, Xiaonan Zeng and Xun Li)
Renowned international human rights lawyer David Matas wrote to the ministers of the Canadian Ministry of Security, Ministry of Immigration and Ministry of Foreign Affairs on August 25. In the letter, he requested the Canadian government to deny Bo Xilai and Xia Deren visas and stated that the request was proposed on the basis of Canada's Crimes Against Humanity and War Crimes Program and Canada's implementation of international law concerning these issues.
Falun Gong practitioners from Ottawa, Montreal and Toronto held an anti-torture exhibition, group exercise practice and signature collection in front of Parliament.
Practitioners hold anti-torture exhibition outside Parliament
"Canada must not open doors to those who commit crimes against humanity"
Mr. Xun Li, Chairman of the Falun Dafa Association of Canada, said, "Bo Xilai and Xia Deren are two of the leaders of a group of government officials in China who in concert with others have been actively acting to implement and sustain a campaign of suppression and extinction of the practitioners in Liaoning Province, a province with 341 reported Falun Gong death cases, the 3rd highest province after Hebei and Heilongjiang. At least three known practitioners with Canadian family members, are currently jailed or detained with terms of up to 8 years in prison in Liaoning Province."
Xiaonan Zeng, a resident of Toronto, gave testimony in the press conference that his mother was still imprisoned in China for practicing Falun Gong. His mother Huang Xin, more than 50 years old, was arrested and imprisoned many times. She was unlawfully sentenced to an 8-year term imprisonment. In prison, she was tortured and injected with toxic drugs that damaged her nervous system, leading to impaired speech and walking capability. She was not able to recognize her husband. Mr. Zeng said, "The suffering of my mom is just one of tens of thousands of practitioners in China being persecuted."
Mr. Li stated that Bo Xilai and Xia Deren have been sued in several countries. The District Court in Washington DC declared Bo Xilai in default on July 28, 2004. A default judgment was issued on December 8, 2004 against Xia Deren, finding the defendant Xia liable for the charges. In June 2003, San Francisco Judge Edward M. Chen recently denied foreign sovereign immunity to Xia Deren.
Recently, based on the systematic and widespread nature of the persecution, the Canadian IRB ruled that the persecution of Faun Gong is a "Crime Against Humanity." In the press conference, Mr. Li provided a 13-page report exposing the two officials' involvement in the persecution. Mr. Li said that the witnesses came from independent international organizations.
Human rights lawyer David Matas wrote to the relevant Canadian officials on August 25 to ask the Canadian Government to deny Bo Xilai and Xia Deren visas. Mr. Matas pointed out that based on Canada's Crimes Against Humanity and War Crimes Program, one would be denied entry to Canada if he is found guilty of crimes against humanity. He said that if such officials entered Canada, a message would be passed to the public, and Canada would be sanctioning genocide and human rights persecution. He said that Canada must act according to the international human rights agreement and Canada's Crimes Against Humanity and War Crimes Program. Victims of such crimes should not be left to fend for themselves.
MP David Kilgour said he supported David Matas's conclusions and "[I]...agree fully that these individuals should not be permitted to enter Canada on the basis of their complicity in the violation of the human rights of Falun Gong practitioners."
Stopping the persecution is the shared responsibility of the international community
The Falun Dafa Association pointed out in a press statement: "We want to highlight that the persecution of Falun Gong practitioners and the suppression of their moral and spiritual belief of 'Truthfulness-Compassion-Forbearance' have escalated for over six years. Between May and July of this year, 757 Falun Gong death cases were reported. Over 2,780 deaths have been verified despite the information blockade and cover-up by the Communist regime. Tens of thousands of practitioners are being unlawfully imprisoned, including 18 Canadians' relatives."
Mr. Li said in the conference, "Canada must not open its doors to criminals in its pursuit for trade. The systematic eradication of Falun Gong through hate-incitement, economic devastation, torture and killing is a campaign constituting serious crimes against humanity and conscience, and warrants the urgent scrutiny of the Canadian government and the international community to stop it."
MP Kilgour said in his speech, "There can be no doubt in anyone's mind that the Chinese government persecutes Falun Gong practitioners mercilessly across China for what is perfectly legal in virtually every other country on earth. Despite its claims that there is freedom of religious conscience in China, Falun Gong practitioners continue to be the victimized across the country. I urge the government to follow the letter of its own law and respect the rights of its citizens."
Background Information:
Brief introduction -- the crimes of Bo Xilai and Xia Deren in the persecution of Falun Gong
Bo Xilai was former Vice Secretary of Liaoning Party Committee, Governor of Liaoning Province, Secretary of Dalian City Party Committee and Mayor of Dalian City. Since the initiation of the persecution of Falun Gong, Bo has managed and directed the persecution of Falun Gong practitioners in Liaoning Province. When Bo was in charge of Dalian, the city was one of the cities where the most severe persecution occurred in China. Fifteen practitioners were tortured to death. When he was governor of Liaoning Province, one billion yuan (about $123 million) was invested in reconstruction of prisons. More than 500 million yuan (about $61.6 million) was invested in Masanjia Labor Camp, Shenyang. In 2003, Masanjia was built to be the number one prison in China. Many Falun Gong practitioners have been imprisoned and tortured in the camp.
Xia Deren was former mayor of Dalian City and supported the persecution of Falun Gong in the Chinese People's Congress on February 9, 2004 while representing the Dalian City Government. Xia was sued in the United States on February 7, 2002 for crimes of torture and anti-humanity, and found guilty by a court in June 2003.
Canada's list of responsible parties in the persecution of Falun Gong includes 45 Chinese Communist Party officials
Through the end of January 2004, Canada's Crimes Against Humanity and War Crimes Program established a list of Chinese officials from each level of Party Committees, "610 Offices," local governments and forced labor camps that are responsible for the persecution of Falun Gong for The Royal Canadian Mounted Police (RCMP). If anyone on the list attempts to enter Canada, a prompt investigation could take place, potentially resulting in refusal of visas to Canada, deportation, charges and punishment based on Canada's laws governing crimes against humanity and war crimes.
(http://www.clearwisdom.net/emh/articles/2004/2/15/45125p.html)