Pullman, Washington: Dafa Entry Wins Trophy for Second Year in a Row at the Lentil Festival Parade (Photos)
August 29, 2005 | By a practitioner in Washington State
(Clearwisdom.net, August 27, 2005) On August 20, local practitioners from Eastern Washington and Northern Idaho and practitioners from the Seattle
and Olympia areas participated in the annual Lentil Festival Parade in Pullman, Washington. Once again this year the Falun Dafa practitioners won an award. The practitioners' float decorated with lotus flowers won the trophy for Best Non-Commercial Entry.
| | |
| --- | --- |
| Falun Gong practitioners' procession | Banners |
Enthusiastically greeting the Dafa group, the crowd was waving and smiling, and holding out their hands for flyers. The practitioners' lovely float, covered with lotuses of all sizes, carried Tang Dynasty costumed ladies and a sweet little girl in her own lotus, as well as practitioners demonstrating the exercise movements. The talented Dafa waist drum troupe marched and performed to the music of "Falun Dafa is good." This was the first time this type of performance had ever been seen in this area. The not-so-fearsome Chinese Lion delighted children and grownups along the entire parade route, capering
and swinging his great head all the way. Other Dafa practitioners carried banners and handed out flyers and paper lotuses to the crowd, where many predestined onlookers reached out for information about Dafa.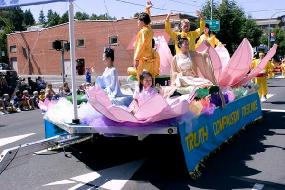 Exercise demo
In previous years in the crowd there have been unsmiling Chinese faces from the local university, students who have been deceived about the true nature of Dafa. This year only smiling faces could be seen. One young lady on the left side shouted "Ni-men-hao"
(Hello to all of you!) to us before one of the Chinese banner bearers even got a chance to call out to her. Many smiled back, nodded their heads, and also said "Ni-men-hao" back.
| | |
| --- | --- |
| Talented Dafa waist drum | Chinese dancing lion welcomed |