New Book: Compassion Overcomes Evil
BOOK INTRODUCTION
Since the persecution of Falun Dafa began on July 20, 1999, practitioners in China have remained unmoved and resolute on their path of cultivation. For the past five years, while opposing the persecution, they have legitimized and safeguarded the reputation of Falun Dafa and allowed millions of Chinese people to understand the true nature of the persecution. Since the publication of Falun Dafa founder, Mr. Li Hongzhi's Lecture at the U.S. Falun Dafa Experience Sharing Conference in Florida on Dec. 29, 2001, Falun Dafa practitioners in China have joined their fellow practitioners in more than 60 countries to fulfill the three tasks of studying the Fa, sending forth righteous thoughts, and clarifying the facts about Falun Dafa to the world. In this process, they have gained innumerable valuable experiences in improving their moral character, exposing the truth about the persecution, introducing people to Falun Dafa, and establishing great virtue.
Through the many trials over the past five years, Falun Dafa practitioners in China have certainly matured on their cultivation paths. They have become more clear-minded and rational and have shared their invaluable depth of experience with all of us. Because of the ongoing persecution, much of the information is focused on practitioners' opposition to the persecution and on the suffering they have endured. In order to help eliminate the evil factors behind the persecution, show people the goodness of Falun Dafa, expose the lies that maintain the persecution, and to compensate for the lack of a safe environment for large scale cultivation experience sharing conferences in China since the persecution began, Clearwisdom called for the "First Written Experience Sharing Conference for Falun Dafa Practitioners in China" to be held over the Internet. This conference took place between October and November in 2004. Thanks to the overwhelming support of practitioners in China, a large collection of experience sharing papers was received. It proved to be a majestic and honorable experience sharing conference for practitioners in China, and an inspiration to practitioners around the world.
Through this conference, practitioners from different parts of China have been able to learn from each other's experiences and reflect on their own shortcomings. This valuable sharing encouraged other practitioners to overcome obstacles and make tremendous progress.
This collection of sharing shows the world the honorable and pure intent of Falun Dafa disciples upholding the principles of "Truthfulness, Compassion, and Tolerance." We also hope it will help fellow practitioners strengthen their resolve and further eliminate the evil factors behind the persecution. In this light, the following experience sharing papers have been selected and compiled into a book for the benefit of all readers.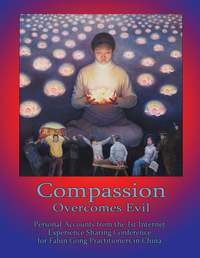 Compassion Overcomes Evil
Download PDF Format (1.5 MB)
Download Word Format (2.5 MB)