(Clearwisdom.net) Upon learning that the head of the Chinese Communist Party (CCP)Hu Jintao will come to the US in September, 2005, to attend the United Nations' 60th anniversary celebration and to meet with US President, Falun Gong practitioners in Texas formed a 'Rescue Orphans' car tour group. On August 19-21, 2005, the group traveled between major cities in Texas, Austin, Houston, Dallas and Waco, and President Bush's ranch in Crawford to hold activities to appeal through the media to let more people learn about the CCP's persecution of Falun Gong, call for an end to the persecution, and rescue orphans of Falun Gong practitioners who have died as a result of the persecution.
(Clearwisdom.net) Falun Dafa practitioners in Hawaii started a petition drive in their local Chinatown to support efforts to rescue children orphaned by the persecution of Falun Dafa in China.
A letter containing all the signatures will be mailed to President Bush, asking him to raise this issue when Hu Jintao visits the United States in September.
(Clearwisdom.net) On August 12, 2005, The Star Tribune (Minnesota, USA) published an article called "Misleading story hurt Falun Gong" in the "Commentary" section of the newspaper. (
http://www.clearwisdom.net/emh/articles/2005/8/13/63891.html
) The article was written in response to a Beijing propaganda article appropriated by the Associated Press called "Falun Gong Followers Renounce Group," published in many American media outlets in January. The article was viewed controversially because it did not give an accurate depiction of Falun Gong and the events of the so-called "self-immolation." Falun Gong is accepted and proclaimed by over 50 countries world-wide and that the international community views the "self-immolation" as a staged event used by the Chinese Communist Party (CCP) to incite hatred against Falun Gong and justify its brutal persecution of Falun Gong.
~ Other Community Events ~
~ Opinion & Perspective ~
~ Other Community Events ~
~ Deaths ~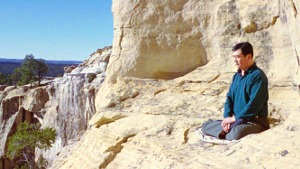 Master Li quietly watching the world from amidst the mountains after leaving New York following July 20th, 1999. (Published January 19, 2000)