(Clearwisdom.net) Falun Dafa practitioner Ms. Lin Feng from Nanchong City, Sichuan Province was arrested at her home on February 1, 2003. She was sentenced to forced labor and brutally tortured almost to death inside the camp. She finally passed away on July 26, 2005. Ms. Lin Feng was 36 years old.
(Clearwisdom.net) Ms. Guo Yinjie is 48 years old and lives in Kouqian Town, Yongji County, Jilin Province. She used to work in a credit union office in Yongji County. Because of her firm belief in Falun Dafa, she had been to Beijing several times to appeal for an end to the persecution. She has been fined, illegally detained and eventually dismissed from her job.
(Clearwisdom.net)
Mr. An Senbiao, 38, is a former employee of No.2 Oil Extraction Plant in Daqing City and a Falun Dafa practitioner. On January 24, 2005, while clarifying the facts about Falun Dafa inside Babaishang Police Department in Daqing, Mr. An was arrested by lawless personnel. While Mr. An was locked up in confinement in Longfeng Detention Center he was forced to put on shackles weighting 30 jin (about 33 lbs). Normally, these shackles were reserved for people facing the death penalty. Using the shackles the guards locked Mr. An to a metal ring secured to the ground. In the cold winter, the guards soaked his cotton-padded jacket and trousers with cold water. In the Suihua Forced Labor Camp, Mr. An was burned, pricked with needles, force-fed laundry powder, shocked with electric batons, sexually assaulted, and is now on the verge of death.
~ Accounts of Persecution ~
~ Journeys of Cultivation ~
~ Deaths ~
~ Opinion & Perspective ~
~ Voices of Support Worldwide ~
~ Karma ~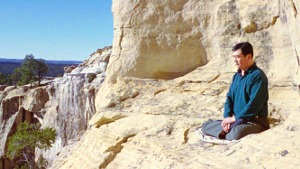 Master Li quietly watching the world from amidst the mountains after leaving New York following July 20th, 1999. (Published January 19, 2000)