(Clearwisdom.net) Ms. Ren Tingfang was in her 50's and a Falun Dafa practitioner from Dayushu Village, Gulang County, Wuwei City, Gansu Province. Her whole family practices Falun Dafa. She went to Beijing to appeal in December 2000 and was sent to a labor camp by the local police. She was released on December 24, 2001, and died on April 18, 2002.
(Clearwisdom.net) Falun Dafa practitioner Mr. Yue Huimin from Qiqihar City, Heilongjiang Province was tortured for more than two years in the Fuyu Labor Camp, to the point where his life was in danger. He nearly lost sight in both eyes, and his whole body suffered from fluid retention. He died on March 18, 2005.
(Clearwisdom.net) The Epoch Times published an article entitled "Hao Fengjun's Provides a Document That Exposes How the Chinese Communist Party (CCP) is Panicking Because of the Nine Commentaries." [Hao Fengjun was a former policeman from the 610 Office of the Tianjin Public Security Bureau. He escaped from China in February 2005 and was granted a protection visa in Australia. He secretly brought with him all the documents he had downloaded from his office computer.] My name was mentioned in that document. Now I'd like to share some of the related events and situations I experienced.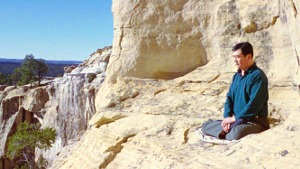 Master Li quietly watching the world from amidst the mountains after leaving New York following July 20th, 1999. (Published January 19, 2000)