(Clearwisdom.net) From the 10th to the 17th of July, practitioners from Italy and Germany held three activities at Parliament Square, Premier House Square and the Coliseum during "The Night of the University City" which lasted for a week.
(Clearwisdom.net)
Snoqualmie is a small town in Washington State near both mountains and water. The town is located on a fertile plain 410 feet above sea level. It was known historically as, "fertile land." The residents are uncomplicated and easygoing. On August 6, 2005, the annual Railroad Days holiday and parade were celebrated in this small town about 25 miles from Seattle. This year's celebration was different from previous ones in that Falun Gong practitioners participated for the first time.
(Clearwisdom.net)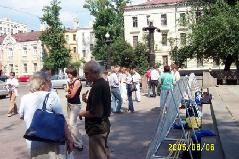 Clarifying the truth in Moscow city centre
On the 6th of August 2005, practitioners gathered in Moscow city centre, calling on the public to pay attention to and help stop the brutal persecution against the Falun Gong spiritual practice by the Chinese Communist Party. The Chinese communist regime is still taking all possible means to cover up the brutality and insanity of the persecution. Over the last few years, in order to let the world's people know about the persecution and to clean out the venom spread by the CCP through Embassies and Consulates, Moscow practitioners have been raising awareness from one district to another. This way we could become established deep into the community and distribute material in the streets, near shops and at train stations, in order to let more citizens know about the truth.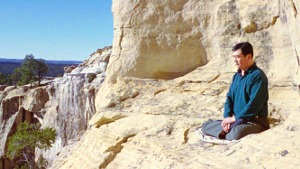 Master Li quietly watching the world from amidst the mountains after leaving New York following July 20th, 1999. (Published January 19, 2000)