More Information about Young Wang Boru: A Tragically Short Childhood (Photos)
(Clearwisdom.net) Minghui special report: Wang Boru is 16 years old, a teenager and only child, who was loved by his parents. Tragically, after July 20, 1999, six years ago, his childhood was over.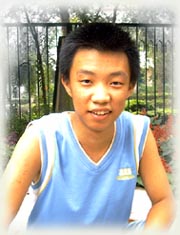 Photo 1: Wang Boru at 16 years in 2005
Boru clearly remembers the day after he turned 10 years old. He had enjoyed his birthday cake the day before, was content and fell asleep that night, happy and secure. In the morning, after Boru got up, he was alone. His parents had disappeared and the home was empty. What had happened during the night? Boru asked everyone he could find. The adults told him that his parent had been arrested at midnight.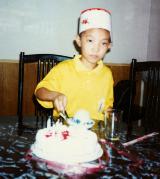 Photo 2: Prior to 1999, Boru's parents always celebrated his birthday.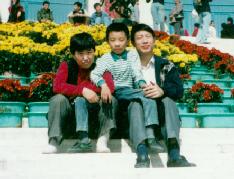 Photo 3: Time passes and everything has changed. This is a photo of Boru's father (Wang Hongbin) and mother (Feng Xiaomei). Childhood for Boru is only a precious memory.
Boru and his aunt walked a long distance to look for his parents. Only later he found out that he had gone for an "appeal." Boru has forgotten much about that trip. But he remembers that there were policemen everywhere. They could not pass the police. He saw police arresting people on the roadside and on Tiananmen Square. He continued to walk! His aunt also disappeared. Therefore, he had to stay with several acquaintances. In the end, someone recognized him and took him back to Shijiazhuang.
After he returned to Shijiazhuang, Boru was alone. Therefore, he became a beggar. Boru can't remember the homes where he stayed to find shelter. But, when he occasionally meets an acquaintance on the street, they say to him, "This child has already grown so tall! You spent two days at our home for a while." Relatives called his home, but the phone remained unanswered at all times. Thus, they realized that something had happened to his family. After the relatives finally found Boru, they saw that his legs were full of open sores, which discharged pus and a yellow-white liquid.
About a month later, one of his younger uncles came to his home. He took Boru to a prison, where he saw his parents. Even through it was a prison, Boru wanted to stay with his parents instead of returning home. The adults had to forcibly take him home.
A week later, his parents were set free. However, frequent visits by staff from the street office and residents' committee office, and searches by police became a common sight. On "sensitive days", the adults had no choice but to hide away from home. During those days Boru stayed home alone and ate instant noodles. Sometimes, his parents took him with them into homelessness to avoid the persecution. On the road, when they became too hungry, they shared a baked cake or a sweet potato. Boru had become used to this way of life. School no longer attracted him that much. He was not willing to talk about his family matters with teachers and schoolmates. When he slept at night, he always held on to his mother's hand. He was in constant fear that she would disappear again by the time he woke up.
One night in 2000, a group of policemen came to his house and arrested his dad. Where did they take his dad? Boru's mother did not know, nor did Boru. Nearly two months later, they heard that his father had been sentenced to three years of forced labor.
In July 2003, due to practitioners' r rescue efforts, Boru's father gained his freedom ahead of schedule. On that day, Boru and his mother took his mother's company car to pick up his dad. His father's hair had turned white. Boru had not seen his dad for two years, but he did not know what to say when they met again. On the way home, his dad asked Boru about his studies.
The family was finally united. Alas, they could no longer realize the warmth and happiness of the family life they had enjoyed before July 20, 1999. To support the family, Boru's mother worked very hard day and night. Except for coughing, Boru's father was silent. He talked occasionally as to how dark it was at the labor camp. While in the camp, family members were not allowed to visit and he was deprived of sleep for three to four days at a time. The guards had burned his fingernails with a cigarette lighter, hung him on the window, and much more. Boru did not know how to comfort his father, other than doing the cooking and washing the clothes. He understood that he would make his father happy if he studied hard and therefore he studied diligently.
One night three months later, his mother took his ill father to the hospital. The following morning his mother had to give Boru the sad news that his father had passed away from lung cancer.
When Boru misses his father, he looks at the photos - the photos of happier times, when he went swimming with his father on weekends, or when they did mountain climbing during family holidays. Boru then sees his father again in his mind.
After Boru's father died, the police arrested his aunt and uncle. They were able to escape. Some time later his aunt returned home, but she was very ill. She died after five days in the hospital, on International Children's Day in 2004. On the day she passed away, Boru saw his aunt's husband again. Afterwards, nobody knew where he had gone to, but the police still frequently visited his home to ask for him.
Not long after his aunt passed away, grandfather's soul also left this world. The elderly man had come from a village in the northeast to stay with his two daughters. He had not expected to see his family broken up within a year. Since then, grandfather often was in a daze. His health worsened, and he died soon after his daughter's death.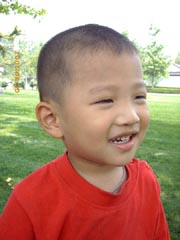 Photo: 3-year-old cousin Tian Xing (taken in 2005)
Boru, his mother, grandmother and 3-year-old cousin Tian Xing were the only four members left of this once happy family. Tian Xing is very innocent and is learning to sing. He sings all day long. Boru feels very sorry for him, as he lost both parents at such a young age. Therefore, Boru takes Tian Xing often to the park and plays with him on the weekend.
Boru is now 16 years old and graduated recently from junior high school. He has no plans about his future. However, the one decision he made is to absolutely not deal with police officers.