San Diego, California: Falun Gong Practitioners Join Independence Day Parade in Oceanside (Photos)
July 06, 2005 | By Dafa practitioners in San Diego, California
(Clearwisdom.net) On the morning of July 2, 2005, Falun Gong practitioners in San Diego participated in the Independence Day Parade held in Oceanside. The Falun Gong contingent was composed of a large banner reading "Falun Dafa," a beautifully decorated float, graceful and elegant fan dance and vigorous waist drummers group. During the parade, practitioners continuously demonstrated the exercises on the float to display Falun Dafa's peacefulness and wonderful nature to the people. Practitioners who performed the Fan Dance and waist drum performed all the way.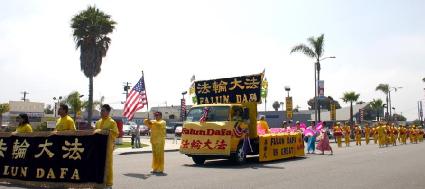 Falun Gong contingent
This was the second time that practitioners had participated in this parade, and the sponsor and audience's enthusiastic response were not reduced compared to that last year. Wherever practitioners passed by, the audience gave warm applause, and requested materials that introduce Falun Dafa from practitioners. A photographic reporter walked into our procession, taking photos of the dance and waist drum performances. A child of about two years old saw us and was very excited. He could not help dancing to the music. After the parade, a spectator told practitioners that he had never heard such good-sounding music as "Falun Dafa is Good."
Wherever practitioners go, the spectators give them applause
People request introductory materials from practitioners
Photographer takes beautiful photos
What is worth noting is that in order to participate in the parade, practitioners took about a week to make a beautifully decorated float, which gained much acclamation. An elderly couple that just took up Falun Gong four months ago participated as well and actively distributed Dafa materials all the way. The elderly woman used to suffer from Parkinson's disease, and she could not walk steadily. But this time she insisted on walking all the way and actively distributed materials.