(Clearwisdom.net) Minghui reporter Cai Ju reports: This year, Falun Gong practitioners were invited to participate in the Independence Day Parade in New York's Chinatown on July 3, 2005, and there were warm reactions in the community.
(Clearwisdom.net) Minghui reporter Xu Qingzhi reports from Chicago: July 4th was American Independence Day. Evanston is a famous city with a long history and dense population near Chicago, where the renowned Northwestern University is located. The annual Independence Day Parade is a celebration the people here love very much. Falun Gong practitioners' participation in the past years has brought the wonderfulness of Falun Dafa to the local people. The Falun Gong contingent won No. 1 and No. 3 of the Best Float Award respectively in 2003 and 2004. Prior to the event, as the practitioner who was previously in charge the parade moved away and changed his contact information, the organization in charge of the parade went all out to find the practitioner and cordially invited Falun Gong practitioners to participate for the sixth time in this famous parade.
(Clearwisdom.net) On the morning of July 2, 2005, Falun Gong practitioners in San Diego participated in the Independence Day Parade held in Oceanside. The Falun Gong contingent was composed of a large banner reading "Falun Dafa," a beautifully decorated float, graceful and elegant fan dance and vigorous waist drummers group. During the parade, practitioners continuously demonstrated the exercises on the float to display Falun Dafa's peacefulness and wonderful nature to the people. Practitioners who performed the Fan Dance and waist drum performed all the way.
~ Other Community Events ~
~ Falun Dafa in the Media ~
~ People in China Awaken to the Truth ~
~ Deaths ~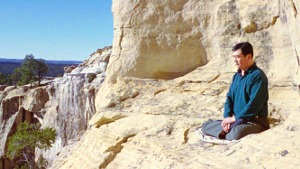 Master Li quietly watching the world from amidst the mountains after leaving New York following July 20th, 1999. (Published January 19, 2000)