(Clearwisdom.net) The Shanghai Women's Prison is located near Sheshan. Conditions there are like in a concentration camp. The prison holds many Falun Gong practitioners. The prison's eastern wall, where the offices are located, is decorated with beautiful rose-patterned bricks, and flowerpots can be seen inside the office windows. Electric wires make up the western wall.
Jul 29, 2005
The Chinese Communist Party (CCP) has initiated a new wave of arrests and persecution of Falun Gong practitioners and dissidents who have promoted the Nine Commentaries on the Communist Party. It is also targeting those who have openly withdrawn from the CCP and the Communist Youth League, says the World Organization to Investigate the Persecution of Falun Gong (WOIPFG).
(Clearwisdom.net)
Mr. Cai Yong, twenty-nine years old, was a Dafa practitioner from Sunwo County, Heilongjiang Province. After the persecution began on July 20, 1999, he went to Beijing to validate Dafa many times. Mr. Cai would often safely escape from jail with righteous thoughts after being detained. In the beginning of 2001, Cai Yong was arrested for writing
truth clarification
materials and was illegally sentenced to three years in a labor camp. Later, he was also sentenced to a nine-year term because he continued cultivating Dafa. In Suihua Labor Camp, Mr. Cai was persecuted in many ways. For example, he was forced to stand outside in the middle of winter without clothing. His body and mind were badly damaged from the ongoing torture and he caught severe pulmonary tuberculosis after being released. Mr. Cai passed away at the end of 2004.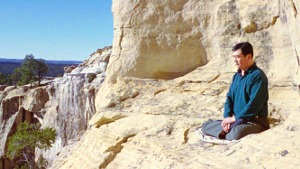 Master Li quietly watching the world from amidst the mountains after leaving New York following July 20th, 1999. (Published January 19, 2000)