United Kingdom: The 20th of July -- A Day We Will Never Forget (Photos)
July 30, 2005 | By a UK practitioner
(Clearwisdom.net) On the 20th of July six years ago, the Chinese Communist Party (CCP), headed then by Jiang Zemin, launched a systematic and widespread persecution against Falun Gong. Many Falun Gong practitioners have since been illegally arrested and imprisoned, put into labour camps and subjected to cruel forms of torture. They have been deprived of the right to study and work because they practise Falun Gong. At least 2,600 lives have been taken. Many families have been torn apart and children have been orphaned.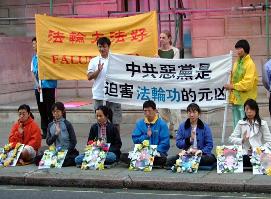 Peaceful appeal in front of Chinese Embassy in London
Six years later, the persecution continues and the massacre has not stopped. Over the past six years, Falun Gong practitioners have never stopped their peaceful and rational resistance. They have unremittingly revealed to the various circles of society how China's Falun Gong practitioners have been persecuted and they have called upon kind-hearted people to take actions to end this trampling on human rights and freedom of belief.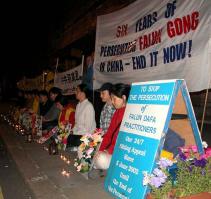 Candlelight vigil
On July 20th 2005, British Falun Gong practitioners again gathered in front of the Chinese Embassy to hold a candlelight vigil in honor of their fellow practitioners who have been persecuted to death by the CCP and to appeal for an end to the persecution. The appeal outside the Chinese Embassy in London has now been there 24 hours a day, seven days a week for 1140 days and nights. The practitioners will continue to sit there and quietly appeal for justice until the persecution is over.
Source http://clearharmony.net/articles/200507/27948.html