United Kingdom: Stories from the Cambridge "Truthfulness, Compassion, Forbearance" International Art Exhibition (Photos)
(Clearwisdom.net) After a month's exhibition at the Cambridge University Union, we received a free offer from the Emmanuel United Reform Church to hold a week-long exhibition. This church is a special building with more than 300 years of history. During this exhibition, we met many interesting people, including her majesty Queen Elizabeth II and well-known American actress and founder of a fitness exercise regime, Jane Fonda.
The Emmanuel United Reform Church is located beside Cambridge's famous Fitzwilliam Museum. There are many tourists there on a daily basis. The church also attracts many Christian followers on Sundays.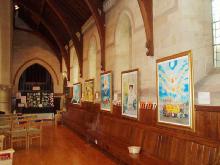 "Truthfulness, Compassion, Forbearance" art exhibition held in Emmanuel United Reform Church
Jane Nicolas, the administrator of the church, said, "This art exhibition has proven to be very attractive and its contents are very rich. Persecution and torture of any group or individual is fundamentally wrong. As Christians, it is our responsibility to support the people of every nation in their effort to expose and condemn all violence."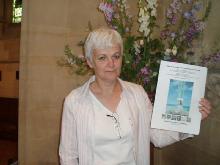 Ms. Jane Nicolas
During the exhibition, well-known American political activist, actress and founder of a fitness exercise regime Jane Fonda was giving a seminar about her life and films in a nearby church called St. Mary's. About five hundred of her fans crowded the church. Many media representatives were also there to interview her.
St. Mary's church is located in the center of Cambridge just opposite King's college. It's a very busy tourist spot. A big banner displaying Falun Gong's principles of "Truthfulness, Compassion, Forbearance" has been in front of the church every day for the last two years. That day, a poster advertising the art exhibition was also displayed at the entrance to the church.
During the question and answer session after Jane Fonda's talk, a practitioner had an opportunity to ask a question. The practitioner first expressed her admiration for Jane Fonda's efforts in the field of human rights. She then mentioned how Falun Gong teaches people to follow the principles of "Truthfulness, Compassion, Forbearance", how people achieve both spiritual and physical fitness through exercises, and that this excellent cultivation method is persecuted in China. The practitioners also invited Jane to visit the "Truthfulness, Compassion, Forbearance" Art Exhibition. Ms. Fonda expressed her concern and support for human rights in China, as well as her interest in Falun Gong's five sets of exercises.
A few days later, Her Majesty Queen Elizabeth II came to visit Cambridge. Local practitioners waited outside the Fitzwilliam Museum to welcome her and let her know about the art exhibition. One of the practitioners had the chance to give a leaflet to the Queen.
The art exhibition in Cambridge concluded successfully.
http://clearharmony.net/articles/200507/27444.html