(Clearwisdom.net) On July 20, 2005, which marked the six anniversary of the Chinese Communist Party's (CCP) persecution against Falun Gong, the Korean Falun Dafa Association held a rally in front of the Chinese Embassy in Seoul. Practitioners condemned the evil party's brutal persecution against Falun Gong and called for an end to the suppression.
(Clearwisdom.net) July 20 marked the sixth year of persecution against Falun Gong in China. Some Falun Gong practitioners in Korea held a candlelight vigil that evening at a tourist attraction site by the Han River to commemorate fellow practitioners who have died from the Chinese Communist regime's persecution.
(Clearwisdom.net) Six years ago, Jiang Zemin's regime launched a persecution campaign against Falun Gong. As of today, 2684 Falun Gong practitioners are verified to have died a result of persecution. On the evening of July 19, 2005, about 60 Falun Gong practitioners gathered in front of the Chinese Consulate General in Toronto to mourn fellow practitioners who have died as a result of persecution in the past six years.
~ Rallies & Protests ~
~ Art & Photo Exhibits ~
~ Rallies & Protests ~
~ April 25 Events ~
~ Journeys of Cultivation ~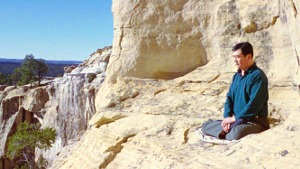 Master Li quietly watching the world from amidst the mountains after leaving New York following July 20th, 1999. (Published January 19, 2000)