(Clearwisdom.net) A group of Falun Gong practitioners from Finland, Sweden, Germany and Russia organized a ten day long anti-torture exhibition tour around five cities across Finland.
On June 22-23, 2005, the group arrived at the final stop, the city of Lahti. The exhibition was held in the pedestrian area of the city center. With good co-ordination, practitioners quickly set up banners and poster boards along with a stand for displaying leaflets and a petition book. Two practitioners who were to act out the torture scenes also got ready quickly.
(Clearwisdom.net)
The spring semester has ended and the summer vacation has begun. The Falun Dafa Club has been established for one year and six months.
I'm an elementary school instructor in Taichong County. One year and six months ago, there were already a number of Falun Dafa practitioners in my school. Although we all started practicing Falun Dafa at different times, we all realized that in these modern times, the moral standard has severely declined and only the principles of Truthfulness, Compassion and Forbearance can purify people's hearts and society. In particular, education is a very important link for laying a solid moral foundation for children. Therefore, we have been employing different methods to bring the principles of Truthfulness, Compassion and Forbearance to the classes we teach. We have the students read Zhuan Falun, teach them to do the Falun Gong exercises, and teach them to recite Hong Yin. In addition, we also teach our students to follow the principles of Truthfulness, Compassion and Forbearance in their daily lives.
(Clearwisdom.net) During a weekend at the end of June, the medium-sized southern German town of Regensburg welcomed the annual Citizens Festival. In the hot weather, the streets of Regensburg were unusually noisy. Nevertheless, the public once again witnessed the peaceful and magnificent nature of Falun Gong cultivation practice.
~ Other Community Events ~
~ People in China Awaken to the Truth ~
~ Karma ~
~ Voices of Support Worldwide ~
~ Journeys of Cultivation ~
~ Standing Up for Falun Dafa ~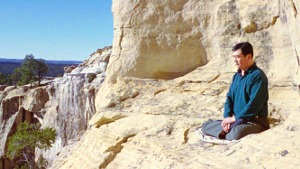 Master Li quietly watching the world from amidst the mountains after leaving New York following July 20th, 1999. (Published January 19, 2000)