(Clearwisdom.net) Mr. Chen Yonglin, a diplomat from the Chinese Consulate in Sydney, who was in charge of monitoring and persecuting Falun Gong, has refused to continue serving the Chinese Communist Party (CCP) in its suppression of Falun Gong, and has decided to break away from the CCP. Mr. Chen's defection shocked Australia and the entire international community, and has become a focal point of global media.
(Clearwisdom.net) After diplomat Chen Yonglin from the Chinese Consulate in Sydney walked away from the Consulate and claimed that he would not support the Chinese Communist Party's (CCP) suppression against Falun Gong, on June 7, 2005, Mr. Hao Fengjun, former agent of Tianjin 610 Office and National Security Bureau in Tianjin voiced his support of Chen Yonglin in Melbourne. He exposed inside stories of the CCP's brutal persecution of Falun Gong with first-hand materials. The cruel means used by the CCP in persecuting Falun Gong will become widely known.
(Clearwisdom.net) The discussion program "Touch of Faith" is broadcast every Saturday night on the "Czech Radio 1" station. On May 28, 2005, presenter Jakub Siska interviewed the chairman of the Slovak Falun Gong Association.
~ Other Community Events ~
~ Journeys of Cultivation ~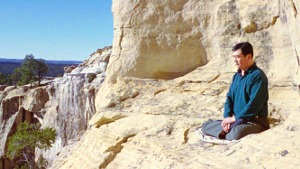 Master Li quietly watching the world from amidst the mountains after leaving New York following July 20th, 1999. (Published January 19, 2000)