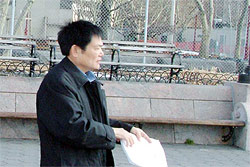 Mr. Guo Chuanjie, the Vice Secretary of the Chinese Communist Party Committee for the Chinese Academy of Sciences, pictured here being served with legal papers in New York City's Battery Park. The judgment, entered against him this week, was for claims of genocide, torture, and crimes against humanity.
NEW YORK (FDI) - Under the shadow of New York's Statue of Liberty, a man ostensibly well-received by leaders in the American scientific community received a document he likely never expected. It was a summons and complaint, suing him in the United States federal court in New York for genocide, torture, and crimes against humanity, and exposing his role in a massive, secret persecution campaign carried out behind closed doors in his homeland, China.
(Clearwisdom.net)
When we
clarify the truth
to people, we should consider their level of acceptance, similar to when we urge people to withdraw from the Chinese Communist Party (CCP). To those who believe in Gods, we can just directly tell them that the most evil thing that the CCP does to Chinese people is to guide them to be atheist with absolutely no trust in matters related to cultivation. Thus people's path to salvation has been blocked. But Gods and Buddhas offer salvation to human beings; therefore the CCP has committed monstrous crimes against Gods and Buddhas who will eliminate it in return. Whereas, to those atheists who have been mentally poisoned by the evil CCP, if you directly tell them about Gods and Buddhas and the elimination of the CCP, they will most probably not accept what you say. On the contrary, they might consider you fanatical and not rational. Therefore we should be considerate of others' perspectives during our conversations.
(Clearwisdom.net)
After I studied Master's "Teaching the Fa at the 2005 Manhattan International Fa Conference," I had a few understandings that I would like to share with everyone.
Our tone of voice when clarifying the truth
~ Journeys of Cultivation ~
~ Accounts of Persecution ~
~ Journeys of Cultivation ~
~ Deaths ~
~ Karma ~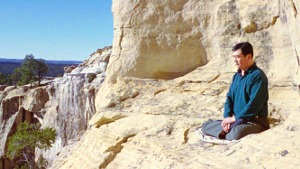 Master Li quietly watching the world from amidst the mountains after leaving New York following July 20th, 1999. (Published January 19, 2000)