Singapore Unreasonably Bars Taiwanese Falun Gong Practitioners from Entering Its Territory (Photos)
June 16, 2005 | By a Minghui/Clearwisdom correspondent from Taiwan
(Clearwisdom.net) On the morning of June 10, 2005, Taiwanese Falun Gong practitioner Ms. Nie Shu-wen took the 7:40 a.m. flight to Singapore. She was barred from entering Singapore and was forcibly deported back to Taiwan by the Singapore authorities. The authorities confiscated one box of books, the Nine Commentaries on the Communist Party, carried by her friend who traveled with her. As soon as Nie Shu-wen arrived at C.K.S. International Airport at 5:30 p.m. the same day, she held a press conference. She said that she could not accept the Singapore government's discrimination and called upon Singapore not to bow to the Chinese communist regime.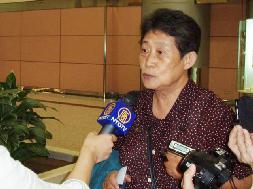 Ms. Nie Shu-wen gives interview
Officials at Singapore Airport Have a Blacklist
Ms. Nie Shu-wen told the media that she went to Singapore on June 10 to attend a local Falun Gong practitioners' experience sharing conference. When she prepared to enter the country, an officer who inspects travelers' identities said, "We've received notice from the Immigration Office. You do not conform to the Immigration Office's stipulations and therefore you cannot enter Singapore." The officer was unable to specify the rules under which Ms. Nie was barred from entrance. After being repeatedly asked for details, the officer said, "I cannot tell you the reason. I only implement the Immigration Office's orders."
A friend who traveled with Ms. Nie asked the officer whether it was because Ms. Nie practices Falun Gong that the Singapore authorities banned her entrance. The officer did not deny anything at that point.
Ms. Nie Shu-wen is 72 years old. She worked as the director of the pediatrics department at Shanghai Hospital. She currently resides in Taiwan. As a former Chinese Communist Party (CCP) member, she deeply understood the CCP's viciousness and corruption after reading the Nine Commentaries on the Communist Party. In the tide of resignations from the CCP, she openly renounced her membership in the CCP at a news conference held on March 20, 2005. Currently, more than two million people have withdrawn from the CCP.
Ms. Nie said that Singapore claims to be a democratic country. However, it does not allow a law-abiding Taiwanese citizen to enter its territory. She wanted to express her stern protest against the Singapore government through the Taiwanese Ministry of Foreign Affairs.
The Taiwan Falun Gong Association immediately contacted the Taiwan Office in Singapore after learning about this incident. According to a Secretary surnamed Song in the Taiwan Office, the Singapore Airport officials have a list of names on which Ms. Nie is included.
Singapore Should Not Become a Funerary Object of the Collapsing CCP
Chang Ching-his, chairperson of the Taiwan Falun Dafa Association, expressed that the Singapore government's performance made people feel disappointed. Falun Gong is legal in Singapore. Ms. Nie Shu-wen, a law-abiding and kind citizen and housewife, was deported. In addition, the Singapore authorities even confiscated a box of books that expose the CCP's nature. These kinds of actions have damaged the freedom of expression that this democratic country should embrace. Has Singapore become a colony of the Chinese communist regime?
Chang Ching-his called upon the Singapore government not to become an accomplice of the CCP, especially at this present time when the CCP's rule is about to collapse during the huge tide of withdrawals from its membership. He called on the Singapore government not to become the CCP's funerary object. He also called upon all countries in the world that are independent and respect freedom and human rights, to condemn the Singapore government's violation of the freedom of expression, thought and belief.
Mr. Chang said that after Ms. Nie was barred from entrance by the Singapore authorities, the Taiwan Falun Dafa Association appealed to the Taiwan Ministry of Foreign Affairs. Spokesperson of the Press Department of the Foreign Affairs Ministry, Mr. Lu Ching-long, said that the Taiwan government would sternly uphold Taiwanese citizens' civil rights. The Foreign Affairs Ministry has contacted the Singapore government but has not yet received a response.
Singapore Issued Unjust Verdict Against Falun Gong Practitioners in April this Year
The Singapore government issued an unjust verdict against Falun Gong practitioners earlier this year. Two practitioners, Ms. Ng Chye Huay and Ms. Cheng Lujin, went to Esplanade Park to practice the Falun Gong exercises and clarify the truth about Falun Gong to people on February 23, 2003. In May 2004, they were charged with "Assembly without a Permit" and "Possession and Distribution of VCDs without a Certificate," as well as six other charges.
On the afternoon of March 2, 2005, in the Subordinate Court of Singapore, witness Ms. Dong said in a sad voice to the young female judge, "Please look at this poster. Falun Gong practitioner Tan Yongjie's legs were severely burned, because he did not give up his belief in 'Truthfulness, Compassion and Forbearance.' Such torture is happening every day in China. It is a true fact that countless Falun Gong practitioners are being tortured to death, and countless families are broken and torn apart. Female practitioners are cruelly beaten and raped." The audience in the courtroom was moved and saddened, but the judge said in a cold voice, "This persecution is happening in China. It is the Chinese people's affair. We have no interest in it. The persecution happening in China has nothing to do with this case."
After a one-year trial, on April 27, 2005, the Singapore court issued a verdict convicting Ms. Ng and Ms. Cheng. They were fined 20,000 Singapore dollars and 24,000 Singapore dollars, respectively. The two practitioners refused to accept the verdict and were immediately detained in Changyi Women's prison. They went on a hunger strike to protest. Under pressure, their family members paid the fines and the practitioners were released on May 3.
Ms. Ng and Ms. Cheng called upon the local media to pay attention to the persecution occurring in China and to treat local Falun Gong practitioners with justice so that their voice could be heard by the public. For a long period of time, the Singapore media have repeated the CCP's propaganda defaming Falun Gong and have almost never objectively reported on Falun Gong. This has seriously misled the local people. Therefore, although Falun Gong is legal in Singapore, many people still don't realize that Falun Gong has spread to more than 70 countries and regions around the world, nor are they aware of the brutal persecution launched in China by Jiang Zemin and the CCP.
The CCP Exerts Pressure on Other Countries to Extend its Persecution of Falun Gong Overseas
Over the past six years of the persecution of Falun Gong, Jiang and the CCP regime have used despicable means to extend their reach overseas. In the U.S., Canada, and the United Kingdom, the Chinese Embassies and Consulates have refused to extend Chinese Falun Gong practitioners' passports. They have even used a blacklist to ban Falun Gong practitioners of different countries from entering Hong Kong, a territory that that CCP claims is being administered under the policy of "one country, two systems."
In late June 2002, at least 89 Taiwanese Falun Gong practitioners who held legal visas were denied entrance to Hong Kong and were deported. The Hong Kong Immigration Office used violent means, including forcibly putting practitioners in sacks or carrying them on stretchers, to put them on the planes back to Taiwan. As a consequence, some practitioners were injured. Their necks and arms were bruised. The Taiwan Falun Dafa Association submitted a strong protest against the Hong Kong government.
On July 1, 2002, Vice President of Taiwan, Ms. Lu Hsiu-lien held a press conference on behalf of the Human Rights Advisory Team of the President's Office. Aiming at the incident in which Taiwanese people who planed to attend Falun Gong activities in Hong Kong were barred from entrance, Ms. Lu published a strong statement of condemnation.
| | |
| --- | --- |
| Hong Kong authorities use stretchers and sacks to deport practitioners | Ms. Lu Hsiu-lien (right) condems the Hong Kong government's unreasonable deportation of Falun Gong practitioners |
In June 2002, before Jiang Zemin visited Iceland, Jiang's regime pressured Iceland's government in advance, which led to the government refusing to issue visas to Falun Gong practitioners from different countries. Forty-six Taiwanese Falun Gong practitioners, who held legal visas, were detained for 13 hours at the Iceland capital's airport before they were allowed to enter the country.
The Falun Gong Association held a press conference to publicize the incident and expose the persecution and human rights violations by Jiang's regime. About 3,000 Icelandic people held a parade to protest against their government's unjust treatment of Falun Gong practitioners. They covered their mouths with cloth to symbolically express their disagreement with the human rights violation. Three huge Chinese characters, "We Are Sorry," were published in a large announcement in the most influential newspapers in Iceland to express the Iceland peoples' apology on behalf of their government. Jiang initially planned to suppress Falun Gong in Iceland, but on the contrary, Falun Gong became well known in the country and received nationwide support. It seemed that the high-ranking CCP officials did not expect or even imagine that such support for Falun Gong would be generated over this international incident.
| | | |
| --- | --- | --- |
| Taiwanese practitioners practicing Falun Gong exercises at the Iceland Airport | The people of Iceland express their apology to Falun Gong in a newspaper ad | 3,000 Icelandic people protest against their government's discrimination against Falun Dafa |