Falun Dafa Practitioner Mr. Wang Hongde Tortured to Death in Daqing City (Photo)
(Clearwisdom.net) Hongweixing Prison in Daqing City released practitioner Mr. Wang Hongde a few weeks ago. On his release, Mr. Wang was on the verge of death as a result of being tortured in prison. On April 30, 2005, fifteen days after his release, Mr. Wang passed away.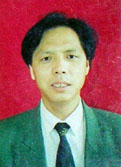 Mr. Wang Hongde, 56, was an employee of the Xinhua Power Generation Plant in Datong District, Daqing City, Heilongjiang Province. He started practicing Falun Gong in 1997. After the persecution started in July 1999, Mr. Wang persisted in his belief. Therefore, the Datong District police unlawfully detained him twice (15 days each time), in March 2000 and February 2001. After the second detention, Mr. Wang was forced to leave his hometown.
In spring of 2001, Mr. Wang invested over 200,000 yuan, planting seedlings and cactus, in Beijing and Tangshan. However, the contractor and persecutors from the Yutian County Police Department (in Tangshan City) did not honor his contract and forbade Mr. Wang from conducting his business. Their excuse for not honoring the contract was that Mr. Wang was a Falun Gong practitioner. As a result, Mr. Wang suffered extensive financial losses.
On April 26, 2002, staff from the Yutian County Police Department arrested Mr. Wang and ransacked his home in Tangshan City. They found and confiscated 11,000 yuan, calling it a "fine." Because Mr. Wang refused to give up his belief in Falun Dafa, the persecutors sentenced him to a 5-year prison term. On August 16, 2003, Mr. Wang was sent to Hongweixing Prison in Daqing City.
On the first day, some training group guards beat and tortured Mr. Wang with leather belts. As a result, his hands were swollen, his palms were bleeding, and half of a tooth in his upper-right jaw was broken off. During the illegal detention, staff from the prison's "Education Section" (610 Office) forced him to watch video programs slandering Falun Dafa. They tried to brainwash him and tortured him mentally.
Around December 2002, Mr. Wang suffered a heart attack as a result of the torture. He fell into a coma. He was then diagnosed with severe heart disease (mitral stenosis and third-degree heart weakness). At that time, Wang Hongde's family members asked the prison to release him for medical treatment. His family asked for compassionate leave many times. However, the prison authorities refused their requests. A guard even said, "We would rather see a Falun Gong practitioner die in here than releasing him or her for medical treatment."
On January 14, 2005, family members of Mr. Wang received a phone call from someone in the prison, who told them to go to the prison with 2,000 yuan - the persecutors wanted to release Mr. Wang for medical treatment. On April 30, 2005, 15 days after he was released, Wang Hongde passed away.
Recently, persecutors in Hongweixing Prison launched a new round of persecution of practitioners. It is rumored that practitioner Jin Sheng, who was sent to the prison in 2002, had been tortured so severely as to be on the verge of death. Jin Sheng's family members requested a visit, but the authorities in the prison have refused their request.
Responsible people in Hongweixing Prison, Daqing City and their phone numbers:
(The prison's postal code: 163000)
Tang Yongfu, Head of the prison: 86-459-5056688 (Office), 86-459-5105087 (Home), 86-13303690588 (Cellular)
Chen Qingfa, Political Commissar: 86-459-5058588 (Office), 86-459-4686358 (Home), 86-13329491288 (Cell)
Wang Jiaren, Deputy Head of the prison: 86-459-5050616 (Office), 86-459-4687616 (Home), 86-13303691339 (Cell)
Zhang Yajun, Deputy Head of the prison: 86-459-5059122 (Office), 86-459-6388889 (Home), 86-13359825633 (Cell)
Jiang Shuchen, Deputy Head of the prison: 86-459-5059808 (Office), 86-459-6783122 (Home), 86-13936711131 (Cell)
Wang Yingjie, Deputy Head of the prison: 86-459-5059919 (Office), 86-459-6363870 (Home), 86-13329393777 (Cell)
Tan Ronglai, Director of the Political Division: 86-459-5050618 (Office), 86-459-6133365 (Home), 86-13304694188 (Cell)
Xu Zhi, Associate Director of the Political Division: 86-459-5059918 (Office), 86-13936702596 (Cell)
Gong Huaqiang, Discipline Inspection Office Director: 86-459-5059590 (Office), 86-459-4660518 (Home), 86-13845929612 (Cell)
Guo Chuntang, Education Section Director: 86-459-5059750 (Office), 86-459-6388886 (Home), 86-13039882277 (Cell)
Li Fangjie, the No. 3 Ward Head: 86-459-5059835 (Office), 86-459-5825637 (Home), 86-13091681555 (Cell)
Li Weinan, the No. 4 Ward Director: 86-459-5059834 (Office), 86-459-4623917 (Home), 86-13199066767 (Cell)
Tian Xifeng, Deputy Head of the Internal Control Group: 86-459-4624333 (Home), 86-13845968800 (Cell)
Huang Zhiwei, Prison Hospital Director: 86-459-5059828 (Office), 86-13091685087 (Cell)
06/06/2005