AP Reports about Two Singapore Falun Gong members' release from jail (Photo)
(Clearwisdom.net) Two Singaporean Falun Gong practitioners Ms. Ng Chye Huay and Ms. Cheng Lujin said at a press conference held on May 4, "What we did was for the good of everyone." They protested against the Singapore government and judge's decision and believed that putting good people into jail is an insult to the law. They said that they would appear before the Court of Appeals in July to try overturning their convictions.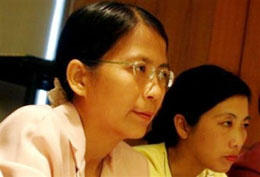 The two Singaporean Falun Gong practitioners addressing the press conference
The following is a report from the Associated Press on May 5.
Two members of the Falun Gong spiritual group said on Wednesday they have ended a hunger strike upon their release from a Singapore jail, after refusing food to protest their conviction for illegal assembly and distributing unauthorized materials.
The two women, Ng Chye Huay, 41, and Cheng Lu Jin, 38, refused to pay fines and were therefore jailed after their sentencing in late April.
On Wednesday, they said they held a brief hunger strike to protest their conviction before their families raised the money, before their families paid their fines. Cheng went 7 days without food while Ng did not eat for 4 days, they said.
They were released Tuesday.
Ng had been ordered to pay a fine of 20,000 Singapore dollars (US$12,228), but chose a five-month jail term instead. Cheng refused to pay a S$24,000 (US$14,675) fine and was sentenced to jail for six months.
"What we did was for the good of everyone," Ng said at a news conference. "That's why I went on a hunger strike to protest the government, and the judge. To imprison good people is an insult to the law."
Falun Gong often accuses China of arresting and torturing its followers on the mainland, but it is legal for them to practice their faith in Singapore.
[...]
The pair said they will appear before the Court of Appeal in July to try overturning their convictions.
http://asia.news.yahoo.com/050504/ap/d89sbdt01.html