The Epoch Times: Chinese Consulate Denies Doctor's Passport
May 31, 2005 | Evan Mantyk
May 29, 2005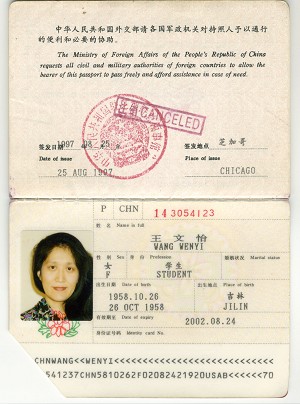 CANCELED: The passport of Dr. Wenyi Wang has been refused renewal for a third time by the Chinese Consulate of New York. The basis for the refusal is apparently that she practices Falun Gong and speaks out against the Chinese Communist Party's ban on Falun Gong in China.
Courtesy of Wenyi Wang

NEW YORK -- Standing on the corner of 42nd Street and 12th Avenue, Dr. Wenyi Wang refused to eat all day in protest. Wang said that when her father died from heart problems on May 3, she knew she had to go back to her hometown in northeast China for the funeral. The problem was getting there.
The Chinese Consulate of New York, which Wang stood outside of, refused to renew her Chinese passport, making it impossible for her to return home or visit any other country besides Canada.
"The reason is simple. I have very actively criticized the Chinese regime for their persecution of Falun Gong practitioners," said Wang, a permanent U.S. resident and physician at Mount Sinai Hospital, in an open letter to the public.
Falun Gong is a spiritual exercise practice banned in China since 1999 that has become known on the streets of New York City for its frequent flyering and reenactments of the tortures used on Falun Gong practitioners in Chinese labor camps and prisons.
This was not the first time that Dr. Wang's passport was refused renewal. Three years ago, China's National Security Bureau told Wang they would not renew her passport because she practiced Falun Gong. She was given the option of writing a letter that denounced Falun Gong in return for a passport renewal, a tactic also used on Falun Gong practitioners arrested in China.
"This is not only violating the basic human rights based on the international human rights agreements between nations, but also reveals the true nature of the Chinese Communist regime," said Wang.
After the Tiananmen Square Massacre in 1989, many Chinese pro-democracy advocates fled to the United States where they have faced the same passport renewal problems as Dr. Wang.
Since 1999, when Falun Gong was banned in China, many Falun Gong practitioners outside of China have been put on the Chinese government's "blacklist," as Wang calls it.
The Falun Gong Human Rights Working Group has documented the cases of at least 109 Falun Gong practitioners outside of China being refused renewal of their passports for no other apparent reason than they practice Falun Gong and have spoken out against the ban on Falun Gong in China.
http://theepochtimes.com/news/5-5-29/29116.html