Taiwan: "Truth-Compassion-Forbearance" International Art Exhibit Held at National University (Photos)
May 29, 2005 | By practitioners in Taiwan
(Clearwisdom.net) After its success at National Chung Cheng University, from May 9 to May 13, the "Truth-Compassion-Forbearance" International Art Exhibit jointly sponsored by Falun Dafa Clubs from the various universities in Taiwan was held at National Chung Shan University (NCSU).
NCSU Falun Dafa Club members chose the famous Hsi Tzu Bay tunnel as the exhibit site. As expected, the creative "Tunnel Art Exhibit" attracted many students and faculty members as well as local residents. When practitioners were setting up the exhibit on the first day, many people were attracted and they stopped and asked about the exhibit's theme and schedule.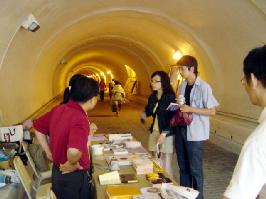 In the 265m tunnel, students and local residents asked for more information about the exhibit
The brochure detailing the background of this exhibition stated: "This is a group of outstanding artists from all over the world, who are striving to enlighten to the truth of life and the universe through the principles of 'Truth-Compassion-Forbearance.' Combining their personal experience and insight, they have presented people a path to truth, compassion and forbearance." After reading or hearing about this statement, a lot of people expressed their admiration for the spirit of "Truth-Compassion-Forbearance" as it is depicted in these paintings. They also showed their interest in learning more about Falun Dafa.
In the slightly dimmed and quiet tunnel, illuminated by evenly-spaced lamps, the harmonic and peaceful feature of each of the paintings was even more noticeable, and the beauty of cultivation practice and the uncompromising spirit of practitioners were thus particularly highlighted. When practitioners politely greeted passing students and others who came to the university, most of them accepted Falun Dafa materials with a smile and many stopped to look through the exhibit.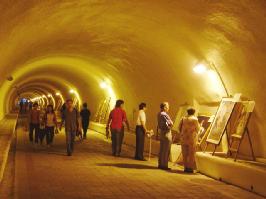 Passersby admire the exhibit
During the exhibition, many people asked about the book, Zhuan Falun and information about practice sites. Practitioners answered their questions in detail and told them more about the practice. From the exhibit, many people also learned about the ongoing brutal persecution against innocent practitioners in China, and they were shocked by the terrorist nature of the Chinese Communist Party. Some started to think about how such severe human rights violations could be allowed to happen in this modern age and how practitioners could face the perpetrators with such great compassion.