(Clearwisdom.net) On the morning of May 26, 2005, the U.S. Federal Court in Illinois accepted a motion of a lawsuit filed against former Chinese Communist Party (CCP) Secretary of Hebei Province, Mr. Wang Xudong, currently the Minister of the Information Industry Department. This is an important victory for the plaintiffs, Falun Dafa practitioners, and shows that the U.S. Court is concerned over the persecution of Falun Dafa practitioners in China.
(Clearwisdom.net) Between April and May every year, the "Harvard China Review" at Harvard University holds an annual large-scale conference taking some aspect of China as the theme. Each conference attracts many prominent Chinese people in the Northeast U.S. and Westerners who hope to expand business markets in China. Due to the Chinese Consulate's direct support and the poisoning of the Chinese Communist regime's slander and propaganda, the "Harvard China Review" presents a biased and one-sided viewpoint of the situation in China. They emphasize the expanding Chinese economy and the attractions of the Chinese market, creating an illusion that Communist China's economy had boundless prospects. The result is that many Chinese and Western people attending the seminar become filled with an idealized picture of the Chinese Communist Party's (CCP's) prospects, and develop a repulsion and misunderstanding of people who raise questions concerning the CCP's human rights situation and freedom of belief. They believe that such people only view China negatively.
(Clearwisdom.net) After its success at National Chung Cheng University, from May 9 to May 13, the "Truth-Compassion-Forbearance" International Art Exhibit jointly sponsored by Falun Dafa Clubs from the various universities in Taiwan was held at National Chung Shan University (NCSU).
~ Art & Photo Exhibits ~
~ Other Community Events ~
~ Journeys of Cultivation ~
~ Health Benefits ~
~ Journeys of Cultivation ~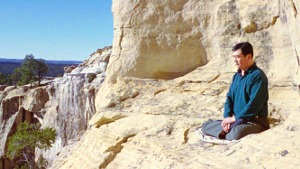 Master Li quietly watching the world from amidst the mountains after leaving New York following July 20th, 1999. (Published January 19, 2000)