California, USA: Practitioners in Folsom Celebrate World Falun Dafa Day (Photos)
(Clearwisdom.net, May 20, 2005)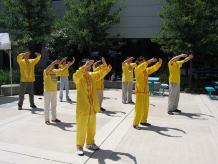 Practitioners demonstrate the Falun Gong exercises during the Folsom Spring Carnival
May 14 is the Spring Carnival in Folsom, California, while May 13 is World Falun Dafa Day. To celebrate World Falun Dafa Day and to introduce Dafa to the local people, practitioners in the Folsom area joined the local spring celebration and demonstrated the Falun Gong exercises during the Carnival. Many people watched the demonstration and joined in the festivities.
May 14 was a very sunny day. Though the Falun Gong performance was the eleventh on the program, practitioners came to the celebration site very early and found an open area nearby to do the exercises together. The group practice spot was very spacious and eye-catching. The "Falun Dafa is Good" and "Free Lessons" banners attached to the fence behind the practice site were visible from far away. With their own table, chairs and truth clarification materials, practitioners set up a beautiful Falun Gong booth.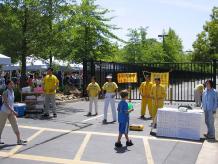 Many passersby stopped at the practitioners' booth and asked for information and materials. Practitioners patiently answered people's questions and told them that Falun Gong is taught for free. Some people left their contact information and said that they would like to learn in the near future.
As oriental culture is becoming very popular in the U.S., the practitioners' performance was very well received. They were invited to do two exercise demonstrations during the event.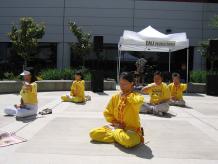 Practitioners demonstrated the Falun Gong exercises twice during the Spring Carnival