Montreal, Canada: "Rescue the Orphans" Concert Creates Warm Response (Photos)
(Clearwisdom.net) In order to rescue orphans who have suffered severely due to the persecution of their parents, the World Committee to Rescue Persecuted Falun Gong Practitioners (WCRPFGP) successfully held a charity concert in Montreal on May 16, 2005. The response from the Montreal audience was very warm.
| | | |
| --- | --- | --- |
| The Lotus Art Troupe performs a Dai Ethnic dance, "Joy" | World renowned tenor, Guan Guimin | Soprano Bai Xue's vocal solo, "Thinking of My Homeland" and "To My Fellow Countrymen"" |
On the evening of May 16, more than 400 local residents enjoyed high quality performances from a group of oriental and western artists at the Montreal Oscar Peterson Concert Center. The performers include Alto Yang Jiansheng, Soprano Bai Xue, World renowned tenor Guan Guimin, the Toronto Lotus Art Troupe, renowned flute performer Chen Ningfang, as well as local Chinese and western artists. Waves of warm applause showed the audience's appreciation of the spectacular performances by these artists.
Ms. Yang, a Montreal contact person of the WCRPFGP, was more than happy to see the great support from the audience. She thanked the Montreal residents' concern to orphans of Falun Gong practitioners who have been tortured to death during the ongoing persecution. According to Yang, during six years of persecution, some children were directly abused physically and mentally for their practice of Falun Gong, and some have even been murdered. There are more children who have become orphaned due to their practitioner parent(s) being tortured to death. It has been confirmed that there are more than 200 orphans of this kind, and 17 of them are related to Canadian residents.
| | | |
| --- | --- | --- |
| Cello solo, "Longing" by Chen Rutang | Zheng playing "Joyful Deities" by a Montreal artist | Montreal artist Robert performs "All For You" |
Mr. Chen Rutang, whose son was rescued to the U.S. by the WCRPFGP, performed a cello piece entitled "Longing," which he composed for this concert. The rhythms depicted the sadness of parents who miss their helpless children, and revealed the tremendous suffering of innocent people and orphans caused by the genocide launched by the Chinese Communist Party against Falun Gong.
Ms. Yang expressed her deepest appreciation to the WCRPFGP for the hard work of the artists who used their exquisite art and great compassion to reach out to the Montreal citizens on behalf of the orphans. The purpose of this concert was to raise the public's awareness of the orphans of Falun Gong practitioners and consequently strengthen the efforts to rescue these orphans to North America to live normal lives.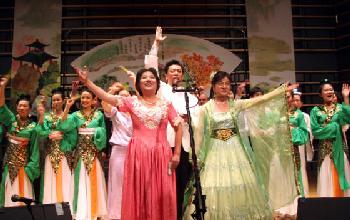 Bai Xue (front right), Guan Guimin (Front center), Zou Xiaoqun and other performers
It was reported that this concert raised about CAD $7000, and that the proceeds after expenses will be deposited to a "Rescue the Orphans" fund.
May 20, 2005