(Clearwisdom.net)
Please note that a correction has been made to the English translation of the recently-posted lecture, "Teaching the Fa at the 2005 Manhattan International Fa Conference."
Where the text used to read, on page 3, "the Fa-rectification of the cosmos cannot not be interfered with", the text has been changed to, "the Fa-rectification of the cosmos cannot be interfered with." Please make this correction to your copy of the lecture.
(Clearwisdom.net, May 20, 2005) On May 15, 2005, Argentina Falun Dafa Sharing Conference was held at Tucuman province in northern Argentina. Though local practitioners have never been to a sharing conference in other countries and they don't even have any experience in organizing conference of this kind, the conference was organized very well. Practitioners from United Kingdom, Chile and France also attended this conference.
(Clearwisdom.net, May 20, 2005) From May 1-10, 2005, the "Uncompromising Courage" International Art Exhibit was displayed in Lawrence, Kansas a college town in the heartland of America. A local artist writes, "The exhibit is poignant, powerful and beautiful, while also showing such a positive attitude, great courage and compassionate heart. It's hard to properly put into words all the feelings the artwork brings to me. Thank you so much for bringing this exhibit to our community. I hope this helps raise awareness of the gentleness of Falun Gong spiritual exercises and meditation, and of the atrocity of the persecution, so that people respond in ways that truly help." From the responses of the public to the exhibit, it appears it is doing that and more.
~ Dafa Day Celebrations ~
~ Other Community Events ~
~ Falun Dafa in the Media ~
~ Other Community Events ~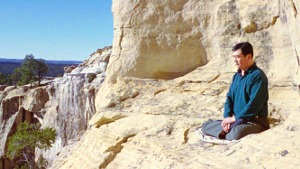 Master Li quietly watching the world from amidst the mountains after leaving New York following July 20th, 1999. (Published January 19, 2000)