Canberra, Australia: Celebrating World Falun Dafa Day (Photos)
May 18, 2005 | By practitioners in Canberra, Australia
(Clearwisdom.net) On Saturday May 14, 2005, practitioners in Canberra, Australia held a "A Peaceful Journey of Falun Dafa" photo exhibit downtown to celebrate World Falun Dafa Day. Under a two-colored sun pavilion, the practitioners held a variety of activities and exhibits, making the event extremely eye-catching. Practitioners showed videos, demonstrated Chinese calligraphy, wrote tourists' names in Chinese characters, and presented handmade paper lotus flowers. In addition, color photos and display boards introduced Falun Gong and talked about the persecution.
Practitioners clarify the truth to tourists
During the exhibit, practitioners had an opportunity to talk to many people about the wide spread of Falun Dafa since its public introduction in 1992, and they discussed the current persecution of Falun Dafa practitioners in China. Some people visiting our exhibit were from Taiwan, Hong Kong and Canada. They all learned about Falun Gong from the exhibit. Some young people were moved to tears after viewing the exhibit and learning the facts of Falun Gong and the persecution.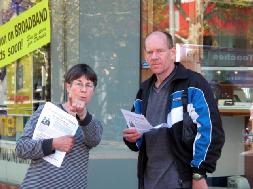 A Western woman (not a Falun Gong practitioner) introduces the persecution of Falun Gong practitioners in China to another resident
A Chinese person living in Canberra said that even though he does not practice Falun Gong, he supported what Falun Gong practitioners are doing. He said that it is a crime that the Chinese Communist regime persecutes Falun Gong, and that it will suffer karmic retribution sooner or later. He said he has read the Nine Commentaries on the Chinese Communist Party. He felt that they were well written, and reasonably and completely expose the evil nature of the CCP. He also recommended the Nine Commentaries to his friends. This Chinese lunar New Year, when he and his wife went back to China, they brought the Nine Commentaries to their friends and relatives. He said that the CCP is nearing the end of its destiny.