Toronto, Canada: A Successful Concert for Rescuing Orphans of Practitioners Who Have Lost their Lives in the Persecution (Photos)
(Clearwisdom.net) In China, many children have been suffering persecution for practicing Falun Gong, or because their parents practice Falun Gong. They are discriminated against, intimidated, unable to go to school, illegally detained, and beaten. They often end up wandering around in the streets, losing their parents, and some have even been tortured to death. They are the most helpless victims of the Chinese Communist Party and Jiang Zemin's regime's brutal persecution of Falun Gong. Their plight has touched the hearts of tens of thousands of Falun Gong practitioners and kind-hearted people.
In order to rescue those orphans suffering due to the persecution of their parents, the World Committee to Rescue Persecuted Falun Gong Practitioners successfully held two benefit concerts with the theme, "Rescuing Orphans," on May 14, 2005 at MacMillan Theatre at the University of Toronto. Artists from Canada, America, Germany, the UK, Russia and other places presented a wonderful performance, bringing much enjoyment and a beautiful artistic experience to the audience. At the same time, through playing videos and through the performance itself, the concert helped the audience learn about the persecution that children in Mainland China have been suffering due to the Chinese Communist regime's persecution of Falun Gong. Many audience members were shocked at the brutality of the persecution, and showed sympathy for those orphans who are living in such great difficulty. They donated money to express their concern and to help the orphans.
The following photos are highlights from the concert:
| | |
| --- | --- |
| Dance "Celestial Flower Maidens" from the Lotus Art Troupe | World renowned tenor, Guan Guimin |
| | |
| --- | --- |
| The Lotus Art Troupe performs the dance, "Elegant Sleeves in Gentle Breeze" | Alto Yang Jiansheng's vocal solo "Chant in Prison" and "Late Spring" |
| | |
| --- | --- |
| Pianist Chen Yian performs "Be Saved" | Soprano Bai Xue's vocal solo, "Thinking of My Homeland" and "To My Fellow Countrymen" |
| | |
| --- | --- |
| Septette, "Ode to Lotus," performed by Chen Rutang, Li Lisha, Lin Jiaqi and others | Orchestral music trio |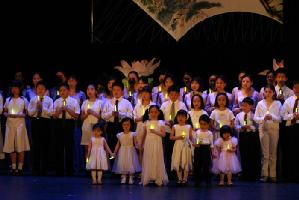 Chorus, "Candlelight"