Supplemental Information on the Death of Dafa Practitioner Liu Xiaodong (Photo)
(Clearwisdom.net) A former employee of the Rural Credit Union in Hailun City, Heilongjiang Province, Mr. Liu Xiaodong was arrested at his workplace by the police from the Political and Security Office of the Hailun City Police Department because he practiced Falun Gong. In detention, he suffered from severe torture, and his mind and body were devastated by persecution from the Hailun City 610 Office. Their torture methods led him to the verge of death. To cover up their evil deeds, the Hailun City 610 Office and the Judicial and Public Security Bureau illegally sentenced Mr. Liu to two years of imprisonment. In addition, they took him to Beian City Jail in Heilongjiang Province, where he was tortured to death on January 8, 2004. He was only 33 years old.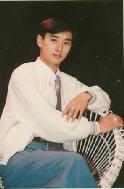 Dafa practitioner Liu Xiaodong
Mr. Liu Xiaodong was an outstanding staff member who won awards every year. He was widely respected for being a good person. After the persecution against Falun Gong began on July 20, 1999, he was detained twice in the Hailun Detention Center by the police and suffered from torture because he persisted in practicing Falun Gong.
In January 2003, while away from home to avoid persecution, practitioner Han Huaigang was seized by the Hailun City police. When the municipal public security bureau police tortured Han Huaigang with the intention of getting a confession, they found Liu Xiaodong's telephone number in Han's pager. They then seized Mr. Liu while he was at work on January 20, 2003, and imprisoned him in the Hailun City local jail. Four days later, Liu Xiaodong was transferred to the Hailun City Detention Center, where the police locked Mr. Liu onto an iron chair inside an iron cage. They tortured him to try to extract information on practitioners' activities. They did not let Liu Xiaodong eat, drink or relieve himself. Furthermore, they tried to force him to sign some material containing lies. Facing illegal persecution by the police, Mr. Liu started a hunger strike to protest. During this time, the Hailun City Detention Center Chief Qu Wanhai personally beat Mr. Liu mercilessly. He also incited policemen to strike Mr. Liu's sensitive areas, such as the temples, the cervical vertebra, and the back of his head. For four consecutive days, the police had several criminals hold Liu Xiaodong down and pour salty water into his mouth. By then, he had gone without food for 8 days. The torture finally caused him to have kidney failure, and his life was in serious danger.
Even when Mr. Liu was on the brink of death, the 610 Office continued to have Qu Wanhai and other policemen use severe physical torture against him. Liu Xiaodong's eyes, face, the back of his head were injured. His eyes were severely swollen, and he could not open them. He was not sent to the hospital until he was unconscious and it was obvious that his life was in danger. The police were afraid that their evil conduct would be exposed and tried to block off the flow of information out of the detention center. After Mr. Liu's family members found out about his situation, they went to the detention center to ask for justice, but instead, they were arrested themselves. Liu Xiaodong's brother videotaped Mr. Liu's bruises and terrible physical condition. But when the police found out about it, they confiscated the tape and camcorder and illegally imprisoned him. Mr. Liu's sister-in-law was also arrested and detained because she was trying to stop the police from beating her husband. An official from the Hailun 610 Office said that even if Liu Xioadong died, they would not be held responsible, because it would be counted as a suicide. Mr. Liu's father witnessed the horrible condition of his son. He felt great grief and requested that he be released on bail and receive medical treatment in order to save his life, but his request was flatly rejected by the 610 Office.
While Liu Xioadong was in critical condition in October 2003, the Hailun City 610 Office officials unexpectedly sentenced him to two years of imprisonment and forcefully sent him to Heilongjiang Province's Beian Prison to be persecuted further. It seemed to be an attempt by the Hailun City 610 Office to dodge responsibility in case Mr. Liu died. In order to save him, his family members made another request to the prison to get Mr. Liu released on bail for medical treatment, but again their request was rejected. Because Liu Xioadong could not get prompt medical treatment in January 2004, he was unable to move and his life was in imminent danger. However, the Beian Prison still refused to let Mr. Liu get treatment from outside the prison. Afterwards, when the prison police saw that Liu Xioadong really was in critical condition, they forced his family members to sign a written statement claiming that "Liu's death had nothing to do with the prison." On January 8, 2004, the 33-year-old Liu Xioadong passed away in the Beian Prison.
Following is a list of those who were involved in the persecution of Liu Xioadong:
(Note: For home or office phone numbers, dial country code + area code first. For cell phone numbers, dial country code before the other numbers. Country code: 86, area code: 455)
Deputy Secretary of the Communist Party Committee in Hailun City of Heilongjiang Province, the main responsible person in the 610 Office: Zhao Lei: 5728666 (Office), 5731187 (Home)
Deputy Secretary of the Communist Party Committee in Hailun City of Heilongjiang Province, another main responsible person in the 610 Office (the former municipal government routine deputy mayor): Wang Qiuping
Director of Hailun City "610 Office" in Heilongjiang Province, Xie Hongpeng: 5721050 (Office), 5728428 (Home)
Hailun City 610 Office in Heilongjiang Province, Liu Yumei: 5720451 (Office), 5721775 (Home)
Hailun City 610 Office in Heilongjiang Province, Shi Wentao: 5720451 (Office),
Deputy Chief of the Hailun City Police Department, Liu Hongyu: 5722929 (Office), 5728777 (Home), 13504558777 (Cell phone)
The Chief of the Detention Center of the Hailun City Police Department, Qu Wanhai: 5767052 (Office)
The Director of the Political and Security Section of the Hailun City Police Department, Zhao Yunfeng: 5722594 (Office)
The Deputy Director of the Political and Security Section of the Hailun City Police Department, Xiao Ye: 5722594 (Office)
The Deputy Director of the Political and Security Section of the Hailun City Police Department, Lan Jian: 5722594 (Office)