(Clearwisdom.net) On April 24, 2005, the New York International Falun Dafa Cultivation Experience Sharing Conference was solemnly held at the Sheraton New York Hotel in Manhattan. About 4,000 Falun Dafa practitioners from around the world attended the Fa conference. More than 10 practitioners shared their cultivation experiences in validating the Fa and saving sentient beings, exhibiting the magnificent manifestation of Dafa disciples assisting Master to rectify the Fa and offer salvation to sentient beings.
(Clearwisdom.net)
Falun Gong practitioners in France gathered in front of the Chinese Embassy to commemorate the "
April 25
" appeal on the afternoon of April 22, 2005.
Six year ago, ten thousand Falun Gong practitioners in China, where Falun Gong originated, went to the State Appeals Office near Zhongnanhai in Beijing to peacefully appeal for their right to practice Falun Gong as granted by law. Their appeal caught the attention of the entire world. The practitioners' manner, unselfishness and courage to face power for the sake of truth showed the world the spirit of "Truthfulness-Compassion-Forbearance," the principles of Falun Dafa, and marked a new era of safeguarding justice and conscience in history.
Eye-catching banners and display boards in front of the Chinese Embassy
(Clearwisdom.net)
To eliminate the interference from the Macao Police, who obstructed practitioners from holding public photo displays with the false charge of "blocking traffic," Dafa practitioners submitted an open letter to the police chief on March 16, calling on the Macao Police to observe Macao laws and the International Covenant on Human Rights. Practitioners urged the police to treat practitioners'
truth clarification
efforts fairly and to resolve its first division's unfounded charge of "blocking traffic" against practitioners.
~ April 25 Events ~
~ Other Community Events ~
~ Standing Up for Falun Dafa ~
~ Journeys of Cultivation ~
~ People in China Awaken to the Truth ~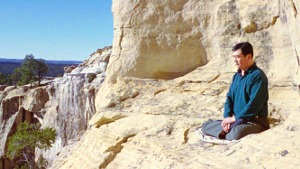 Master Li quietly watching the world from amidst the mountains after leaving New York following July 20th, 1999. (Published January 19, 2000)