(Clearwisdom.net) Turkish Falun Gong practitioners received a formal notice on the 10th of April that the Turkish Falun Gong Association has been officially established. The application for the Falun Gong Association was approved on March 17, 2005 in the City of Mersin. This is the second Falun Gong Association to be established in Eastern Europe this year, after the Polish Falun Gong Association was officially formed in February.
(Clearwisdom.net)
[Editor's note: This married couple applied for refugee asylum in Germany, but were refused. The reason given was that they started practicing Falun Gong after moving to Germany and thus would not have danger after returning to China.]
(Clearwisdom.net) According to news from the Falun Dafa Information Center on April 6, Liu Fang, a Chinese student in Germany, is now urgently appealing for help from all circles to rescue her mother, who was recently arrested in Beijing.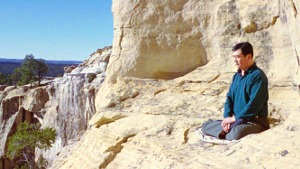 Master Li quietly watching the world from amidst the mountains after leaving New York following July 20th, 1999. (Published January 19, 2000)