"Falun Gong Human Rights Working Group" Submits Cases of Missing Falun Gong Practitioners to United Nations (Photo)
April 15, 2005 | Falun Gong Human Rights Working Group
April 9, 2005
(Clearwisdom.net) On April 4, 2005, the Falun Gong Human Rights Working Group submitted a case report on the abduction of Huang Xiong to Mr. Stephen Toope, Chairman of the UN Working Group on Enforced or Involuntary Disappearances during the annual meeting of the United Nations Human Rights Commission in Geneva.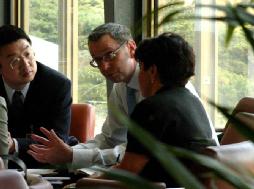 Mr. Stephen Toope talks with practitioners about helping abducted Falun Gong practitioners
Mr. Huang Xiong's home was in Furong Township, Wanan County, Jiangxi Province. He had been forced to stay away from home since Jiang's faction initiated the persecution of Falun Gong in 1999. He was arrested and sentenced to one and a half years of forced labor camp, and after that he was forced to become homeless to avoid further persecution. On April 19, 2003, Mr. Huang Xiong contacted his brother, Mr. Huang Wanqing, in the USA and said that he would go to Yunnan Province. Since then no one has heard from him. Police at the Public Security Departments in Shanghai and Jiangxi refuse to disclose any information about Mr. Huang.
Mr. Toope, the new chairman for the UN working group, was very concerned about this case. He said that Falun Gong is a unique human rights issue with numerous persecution cases in China, to which attention should be paid. He was surprised to know that Mr. Huang was abducted more than a year ago and said he would take action right away. The UN Working Group on Enforced or Involuntary Disappearances deals with cases of involuntary disappearance. If someone is missing for over three months, the case will become an emergency rescue case of the group. Once the case is opened, it will be closed only when the charged government provides the actual whereabouts of the victim.
Mr. Lizhi He, submitting the case along with the Falun Gong Human Rights Working Group, introduced some specific information on the persecution of Falun Gong in China. Due to the Jiang faction's implication policy in the persecution, if one is arrested for persisting in practicing Falun Gong, his family, relatives, colleagues, local administrative office and work unit will all suffer "guilt by association." Therefore, when arrested, many practitioners do not provide their names and addresses to avoid implicating others. For this reason, these practitioners are tortured the worst, generally. Some were even beaten to death without ever giving their names. These kind-hearted people were disappeared forever. Hearing this, everyone on site had a somber mood. Mr. Toope hoped that the Falun Gong Human Rights Working Group could provide more cases of involuntary disappearances.
The Falun Gong Human Rights Working Group also submitted disappearance cases of practitioners Gao Rongrong and Wei Xingyan.