Taiwan: Vice President Lu Hsiu-lien Attends Health Seminar and Learns the First Set of Falun Gong Exercises (Photo)
April 13, 2005 | By Chen Yiwen
(Clearwisdom.net) The Vice President of Taiwan, Ms. Lu Hsiu-lien, attended the "Healthy Life Guide Study Camp" held by the Association of Public Hygiene on the afternoon of April 10, 2005, and learned to practice the first set of the Falun Gong exercises.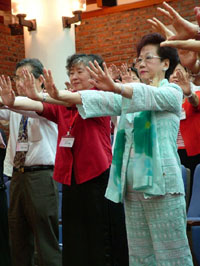 Vice President Lu Hsiu-lien learns to practice the first set of the Falun Gong exercises (Ms. Lu is the first from the right)
Vice President Lu believes that it is an individual's basic responsibility to take good care of their health, and that one should be healthy "physically, mentally and spiritually." In the following three years, Vice President Lu, together with President Chen Shui-pian, will actively promote the health trio: healthy life, healthy society and healthy globe.
After the vice-president made a speech, she listened to the guests talking about their suggestions on health policy. After that, the sponsor arranged for the secretary of the Taiwan Falun Dafa Association, Hung Chi-hung, to demonstrate the Falun Gong exercises. Vice President Lu and more than 150 guests learned to practice the first set of the exercises.
Hung Chi-hung, who used to be director of the Yang School Taichi Association, showed great interest in martial arts when he was a child. After practicing in various Taichi schools such as the Chen School, Zheng School and the Yang School, he realized that modern Taichi only focuses on the exercises, but the true tenets behind the practice have never been taught.
He himself was also an elder in a church, but after practicing so many exercises and religious beliefs, he finally discovered that looking within, valuing morality and being considerate of others are the most important. The first set of the Falun Gong exercises, by means of stretching and relaxing, completely opens up one's hundreds of arteries and veins, resulting in the smooth flow of energy throughout all the energy channels of the body. The exercise is simple to learn, and it has no restriction on time and location, quite suitable to modern people's busy schedules.