Indonesia: "Uncompromising Courage" Art Exhibition Causes Sensation among Chinese-Indonesians in Medan (Photos)
(Clearwisdom.net) From March 19 to 20, the "Uncompromising Courage" Art Exhibition was held in front of a supermarket in the Plaza Medan Fair, a shopping center in a Chinese community in Medan City, Sumatra Province. During the two-day exhibition, countless people came to see the paintings. There were so many visitors and such a huge demand for information that every practitioner at the site barely had a chance to catch their breath! Furthermore, there were so many Chinese faces and each practitioner treasured every moment to tell them the truth about Falun Gong. During the two days, more than 10,000 copies of Falun Gong materials were distributed.
| | |
| --- | --- |
| The righteousness depicted by the paintings touched many people's hearts | People came in succession to view the exhibition |
In the past, many in this area had been deceived by the Chinese government's anti-Falun Gong propaganda, but most of the visitors had already learned of the brutality of the persecution. Their understanding is at least partially the result of Falun Gong's recent rapid spread in Medan City. This fact also shows that people are now reconsidering the persecution, and the public has gradually come to understand the truth.
| | |
| --- | --- |
| As they exited the supermarket, people could see the powerful exhibition | The graceful Falun Gong exercise demonstration and peaceful music attracted many people |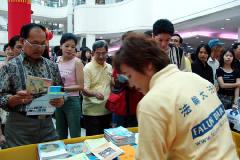 People came for Falun Gong materials